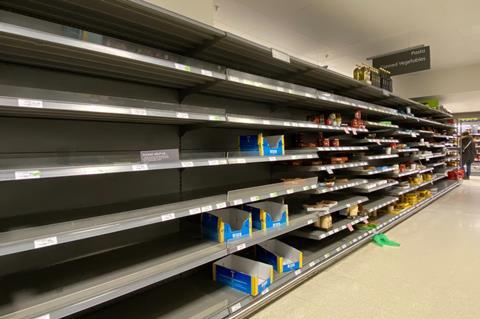 Retailers can no longer bury their heads in the sand on accepting cost price increases from suppliers, a retail consultant has warned.
Ged Futter of The Retail Mind said prices in supermarkets were set to take off after Christmas, with retailers facing empty shelves if they didn't face reality.
Prices have begun to creep higher at the tail end of this year, with Kantar this week revealing grocery inflation of 3.2% in the 12 weeks to 28 November – the highest levels since June 2020.
Last week, supermarket sandwich supplier Greencore warned it was facing double-digit inflation, presenting the business with about £100m in costs to recover. The supplier said it had no choice other than to pass the increases on to retailers. Greencore's concerns echoed those of drinks group Britvic, which is also facing input cost inflation in the "high teens".
Futter said over the past six months his clients, which cover categories across grocery and range from family-owned businesses to listed companies and subsidiaries of larger groups, had taken in excess of £100m inflation to their retail customers.
He added the average increase was 13.6%, with increases ranging from 4% up to more than 30%.
"The inflation they are experiencing is unprecedented," Futter said. "And they are already looking at the additional costs for next year that they need to recover.
"A few of the retailers are approaching the increases knowing it is inevitable, some believe it will disappear if they simply ignore it. The ostrich approach to cost increases will simply mean they have empty shelves when the suppliers stop delivering.
"This is just a warm-up, though. Once 3 January hits, prices will rocket up and nothing will stop them."
Source: www.thegrocer.co.uk