New range of alcoholic beverages will bring a taste of the Canadian Rockies just in time for spring
CALGARY (April 14, 2021) – Alberta-based rök Glacier Water ("rök") is proud to introduce its brand new lineup of sustainably made beers and hard vodka sodas. On the heels of the brand's own launch earlier this year, which saw the release of rök's canned sparkling and spring water, the announcement of its alcoholic beverage range marks an important milestone for the budding local enterprise.
Together with Rapid Ascent Brewing, rök has crafted an array of crisp alpine beers and refreshing hard vodka sodas using water from the outflow of a subterranean rock glacier deep beneath the peak of Fortress Mountain. As the only commercially available rock glacier water beverages in the world, rök is committed to exceptional stewardship of the land its water is sourced from and environmental responsibility remains paramount across all of its operations.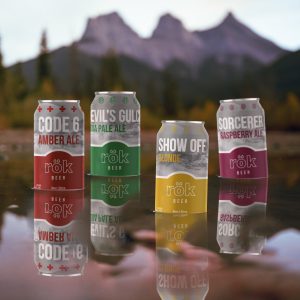 Rök beers will be available in four varieties: Show Off Blonde Ale, Devil's Gulch IPA and Sorcerer Raspberry Ale, named after some of Fortress Mountain's most iconic ski runs, and Code 6 Amber Ale, conceived as a tribute to the brave members of Mountain Patrol. Four unique flavours of rök Hard Vodka Sodas are also being developed: Rocky Mountain Aloha, Ridgeline Raz, Northern Exposure and Alpine Skinny Dip. Crafted with the knowledge that real ingredients taste better, rök's elevated take on the modern hard soda are made exclusively with pure glacier water, premium vodka and real fruit. Rök beers will be available in stores this month, to be followed by the release of the hard vodka sodas later this spring.
"We believe that great beverages begin with great water and that's why we've chosen to use some of the most naturally-pure water on earth as the foundation for all of our products," says Michael Wood, President of rök Glacier Water. "Any brand can put a mountain on their label, but we truly put the mountain in our cans. Our water is 100 per cent Canadian and has been perfected by nature to provide a refreshing mountain taste that can't be found anywhere else."
The stream that rök water comes from has been the source of Fortress Mountain Resort's potable water since 1968. While Fortress has always been allowed to use a small percentage of the annual flow from this glacial outflow (less than 3 per cent) for resort operations, a recent amendment to their long-standing water licence has now made it possible for rök to share this small percentage of their naturally-renewing resource with consumers. This is all part of rök's noble mission to dedicate a portion of its revenues to enhancing and expanding the legendary Fortress Mountain ski area. These funds will also support ongoing land reclamation efforts, sustainability initiatives, development of educational grants, charitable contributions to the local community and beyond.
As part of rök's commitment to sustainable practices, all packaging has also been developed as part of a circular economy. Rök's cans are made from 95-100 per cent recycled content aluminum (which is infinitely recyclable) and can collars are made from 100 per cent recycled cardboard and are 100 per cent biodegradable.
Rök products, including the new beers and hard vodka sodas, will be available at select restaurants and retailers across Alberta and Ontario, with plans for further growth in distribution later this year. For more information, please visit www.rokglacier.com.
-30-