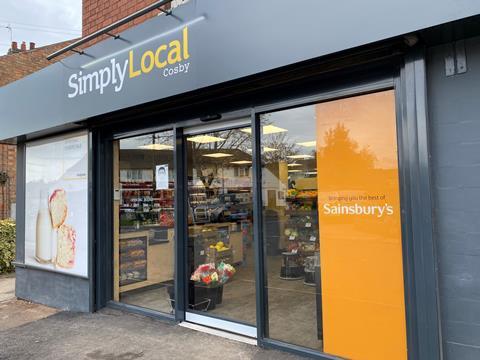 Sainsbury's is closing down its wholesale operations to focus on its core business.
News of the supermarket's decision emerged today in a statement from SimplyFresh, with whom it kicked off a wholesale partnership in January 2020. SimplyFresh currently has five stores trading under its supplied-by-Sainsbury's model and in February announced ambitions to sign up 30 retailers to the model this year.
"SimplyFresh has been informed by Sainsbury's they have taken the unilateral decision to close down their entire wholesale business in the UK across all channels," the statement read.
"As a result of this decision, SimplyFresh no longer has an ongoing agreement with Sainsbury's to supply their products to SimplyFresh and SimplyLocal stores."
The move marks a significant change in strategy for Sainsbury's which has long held an ambition to become a force in wholesale. It was the frontrunner to buy Nisa in 2017 before withdrawing its interest ahead of the Co-op eventually snapping up the buying group.
"As part of our plan to put food back at the heart of Sainsbury's, we are simplifying our business so we can focus on what matters most to our customers – lower prices, exciting new products and convenient ways to shop," said a Sainsbury's spokeswoman.
"To deliver our plan we must prioritise what we do. We have just started talking to our retail partners and colleagues about what this means for the future of wholesale and it will be a gradual process. We know these conversations may cause uncertainty for our partners and colleagues and we are committing to supporting them."
As well as SimplyFresh, Sainsbury's has ongoing supply deals with EG Group, WH Smith and Dobbies garden centres.
The remainder of the 90-plus SimplyFresh estate continues to be supplied by Costcutter, which owns a 20% share of SimplyFresh. Earlier this year Bestway Wholesale completed a deal to aquire Costcutter, and along with its 20% stake.
SimplyFresh said these stores would be unaffected by the Sainsbury's news and it "has quickly begun positive talks with several potential wholesale supply partners to drive future growth".
In May, Nisa retailer Harj Dhasee also announced his two stores will be part of the Sainsbury's supply model from August.
"I'm very disappointed in Sainsbury's," he said. "The momentum to grow this side of the business and the desire for people and retailers who are looking at the proposition in a very serious manner, it's very disappointing for them and for myself.
"I cannot speak more highly of the way SimplyFresh has handled the situation, they've been absolutely amazing. Which brings even more confidence within their team. They found out, and within a matter of hours, despite not having much time to digest it themselves, they informed us. They were so apologetic, and it's not their fault.
"We've had offers from Costcutter and Booker or to stay with Nisa. We've had a phone call with Nisa to see what that looks like. We're not out of contract yet, so there would be no disruption to our supply chain."