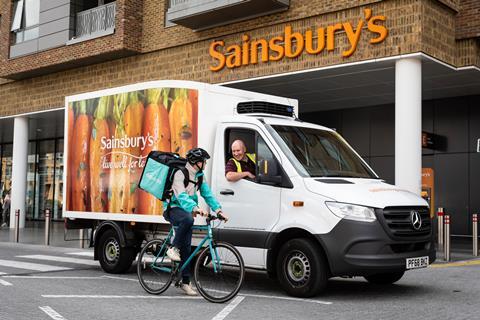 Sainsbury's has relaunched its same-day home delivery and click & collect services as it responds to customer demand for rapid groceries.
The retailer is accelerating the growth of its on-demand and super-fast home delivery and collection services by relaunching them in nearly 250 stores across the country.
The rollout will continue in the coming weeks, with 100 additional stores to be added by the end of October.
Customers shopping before midday can choose between a same-day home delivery slot after 5pm or a store collection slot after 4pm.
Over 100 click & collect stores have been added in comparison to pre-pandemic levels. The supermarket has predicted the service will become increasingly popular as shoppers return to a more normal working life.
Sainsbury's had previously switched off its same-day services during the pandemic.
"Customer demand for shopping online and for getting groceries quickly and conveniently has grown significantly and we are committed to offering customers choice and flexibility – whether that's within 20 minutes to their front door or picking it up at their local store on their way home from work," said Sainsbury's Director of e-commerce Nigel Blunt. 
Read more: Co-op partners with Amazon to offer grocery delivery to Prime members
Sainsbury's said it now had an online grocery capacity of 850,000 orders per week. In addition, it was expanding its partnerships with Deliveroo and Uber to 500 stores by the end of the month.
The grocer's own rapid delivery service, Chop Chop, is also being expanded to a further 25 stores, bringing the total to 75.
Chop Chop, which enables customers to have up to 20 items delivered to their addresses under 60 minutes, will then be available in about 25 cities.
Many conventional retailers, such as Sainsbury's, Morrisons and the Co-op, are ramping up their rapid delivery and collection services in order to compete with an array of new ultra-fast grocery delivery players.
"As life becomes more normal, we are continuing to change so that we can meet our customers' needs," a Sainsbury's spokeswoman said.