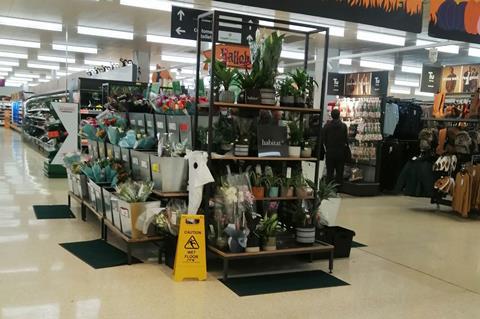 Sainsbury's was this week's clear Grocer 33 winner with 81 points. Its Horsham store provided an "overall great experience" for our mystery shopper.
The branch was a good size, well presented and had a good variety of products on offer.
The "great" signage made it easy to navigate. Staff were helpful any time our shopper enquired about specific items. The checkout experience was smooth – though he was not asked for his Nectar card.
The only real negative was three out-of-stock items.
Tesco in Portadown followed with 73 points as it struggled with some supply shortages. Three items were out of stock and our shopper described it as having "a lot of empty shelves". However, staff were busy restocking the empty shelves.
Our shopper also pointed out the store was very spacious and in a great location (in Portadown's town centre). Some of the branch's highlights included the Halloween and Christmas displays, as well as the bakery area. There were also several "very efficient and helpful" staff members around to help.
Waitrose's Abergavenny store trailed by just one point as it too presented gaps in some sections – stopping the standards from "being excellent". This was particularly evident in frozen vegetables and mushrooms. In the end, our shopper bought a total of 28 items, due to two out of stocks and three not sold items.
The food to go section was somewhat "depleted". The medicine aisle also featured section-specific signage that our shopper assumed was created to fill gaps.
The store was well laid out. The Essential Waitrose products display at the entrance of the store featured several eye-catching products such as the own-label biscuits.
Staff were easy to find and were "happy to go out of their way to help". Our shopper had a pleasant experience with her till operator, who recognised her from her previous stock enquiries and apologised again for the limited availability.
Morrisons and Asda were well off the pace this week. With 44 points, Morrisons Northampton struggled the most with availability – six items were out of stock, while one was not stocked. Our shopper said there were several gaps throughout the whole store.
Additionally, the papayas on display were in poor condition and past the sell-by date by two days, forcing her to mark them as out of stock as the ones left "were not edible".
There was some spillage at the start of the fruit & veg section that had a hazard sign next to it but remained uncleaned. Customers were forced to walk through the mess.
Our visitor also found the shop floor layout hard to navigate. The clothing and home section was placed in the middle of the store, while groceries were distributed either side and at the back.
Staff were always warm and helpful, and management also appeared to be helping out. But she did not enjoy her shop-ping trip and said she wouldn't choose to go there again.
Asda in Sutton received only 39 points after our shopper described it as "untidy and cold".
Colleagues were helpful but their uniform presentation "was not great". The shop floor also looked unkempt. "The store needs a good tidy up," she said.
In terms of availability, three products were out of stock while eight were not stocked. One staff member told her they did not stock many things as it was a small store.