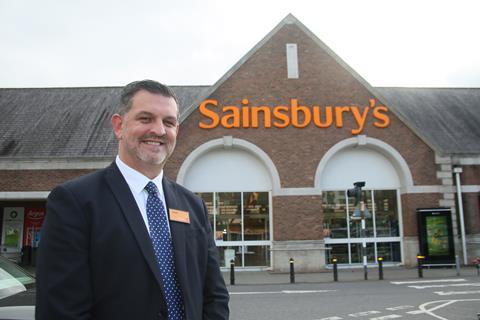 Winner: Sainsbury's Horsham
Store manager: Jason Howell
Size: 48,900 sq ft
Opened: 1995
Market share: 29%
Nearest stores: Waitrose – 0.1 miles, Tesco – 1.0 miles, Asda – 7.0 miles, Morrisons – 13.2 miles
Store data source: Analysis by CACI.
Call the market planning group on 020 7602 6000
Tell us about the seasonal ranges currently on offer. What has been popular? We just released up to 50 new autumn edition lines in our dinners and lunches, so they're going to be exciting to see when they hit the shelf. The Halloween displays are up. Everyone seems to be really going for it, The clothing obviously sells and has gone brilliantly, but they've really gone to town on dressing the house up, so 'keep out' signs with blood all over it… the trick or treating buckets are absolutely flying out at the moment. Christmas has launched as well. We've got main Christmas confectionery on display and new layouts will increase as we go along. We feel it's going to be a very emotional Christmas this year with people not able to see their families last year. People will really be looking forward to catching up with family and friends.
Are people stocking up on Christmas products already? There's a lot of talk from the customer about being concerned, especially with things like toys, but we're not seeing any panic setting in. I think we all collectively thought there was going to be a reaction to some of the press coverage, but I haven't seen anything. As a company we're looking at creating 22,000 jobs across Sainsbury's and Argos. We're already recruiting Christmas temps so we can get them well trained for the festive period. Colleagues and suppliers alike are working hard to make sure customers can find everything they need when they're shopping with us. Availability in some of the product categories might vary, but alternatives are often there and available for us to support. We're receiving deliveries on a daily basis and a lot of customers are surprised reading the papers versus what we have and how good it is.
How is online doing and are you expecting a digital Christmas? We're still seeing a very busy online operation. We're not seeing any dents along the way. It's still very prevalent and the Christmas online slots will be a subject that will be released very, very shortly to let our customers know what's happening.
What has been the extent of the impact of the fuel crisis? Over the last couple of weeks it's been bizarre. We've had some real high demand from customers, but all sites have received deliveries as normal. It's definitely calmed down in the last two days. We've marshalled the car park to give the customer as much information as we can because we want the food customers to be able to get in as well as the petrol customers. I think now the general public recognise they can get fuel, there's not this panic.
You have a lot of rival supermarkets nearby. How do you stay competitive? By just delivering our brand, staying within our corporate values and saving our customers to the best degree we can. We've recently launched My Nectar Prices, which is very competitive for the customers that are getting closer to the digital offers that we have at Sainsbury's and I think it's taken off superbly. Customers are loving it.