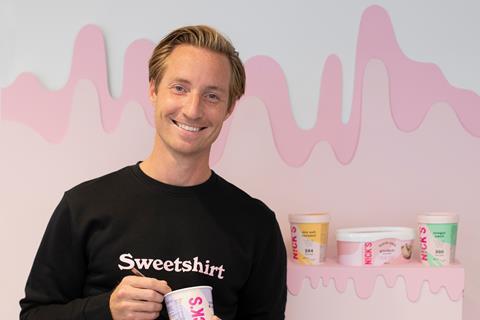 Sainsbury's Future Brands programme has selected Swedish food-tech company Nick's, which focuses on confectionery science to create healthy snacks.
The brand's bars – including Coconut, Peanuts n' Fudge, Crunchy Caramel and Soft Toffee – can now be found in the Taste of The Future bay in selected stores across the country.
Sainsbury's Future Brands initiative aims to promote and support up-and-coming innovative companies.
Nick's uses some of the newest food technology to create healthy snacks, including processes and formulas for replacing sugar with natural ingredients.
"There are no other healthy alternatives in the confectionery bar space," Nick's CEO Stefan Lagerqvist told The Grocer.
"We have been present in UK for a few years now through Amazon, and the repurchase rates we see are super high. So once consumers find our products, we know that we beat competition by a mile."
All of Nick's products are low in calories with no added sugar, gluten, or palm oil. Instead, the company uses ingredients that are typically found in nature, such as sweet fibres from corn and stevia.
It first launched in the UK in September this year after joining forces with WH Smith, with more retail partnerships being announced soon.
Read more: Restrictions on confectionery advertising in-store, online and on TV explained
Other newly chosen Future Brands include seltzer water company Something & Nothing, plantain chips maker Purley, and Popcorn Shed.
The 10 finalist brands of the autumn cohort have 11 weeks to drive sales and potentially score a permanent position on the retailer's shelves.
"We are incredibly proud to be joining Sainsbury's Future Brands programme," Lagerqvist added.
"The Future Brands initiative celebrates industry disruptors, innovation, and products designed for a brighter future, which is perfectly aligned with what Nick's stands for.
"We are excited to show Sainsbury's customers across the UK how our products can outdo some of the nation's best-loved confectionery brands when it comes to taste, despite being free from sugar and artificial ingredients."
Brands nationwide have been racing to develop products that can swerve the HFSS ad ban as the government cracks down on fast food and confectionery and customers shift to healthier food habits.