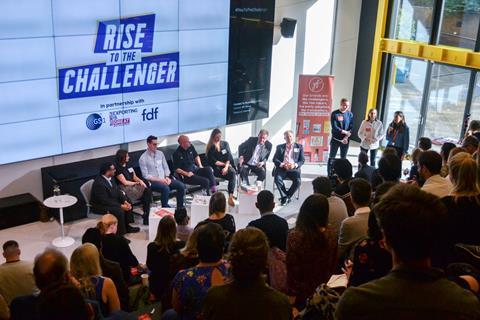 Challenger brands are finding dealing with supermarkets harder than ever before, particularly when it comes to negotiating cost price increases as inflation squeezes margins, a new survey has revealed.
Buyers are increasingly shutting down conversations with smaller suppliers about passing on soaring costs, putting pressure on businesses that can least afford it, according to Young Foodies.
A survey by the organisation, which represents a network of more than 1,000 high-growth consumer brands, found more than half of SME producers said it had become more difficult to access retailers in the past six months, with just 3% finding it easier.
Young Foodies CEO Thea Alexander said in the context of supply chain challenges, cost price pressures, buyer headcount reduction and significant distraction in all areas of retail, the results came as no surprise.
Challengers highlighted access to buyers as being difficult, with 76% finding it their biggest challenge when working with the mults. More than 60% found it hard to access information, such as range windows, category priorities and even how to contact the supermarkets.
Almost half of small grocery brands flagged working with retailers to mitigate cost inflation as a serious burden.
"SMEs are currently feeling significant cost price pressures and finding it incredibly difficult to have productive conversations with their buyers," Alexander said.
"I have heard countless cases of brands broaching the topic with buyers only to have the conversation shut down immediately.
"In fact, in many cases retail buyers have been pushing for our brands to reduce their prices."
Alexander said the hard negotiating approach taken by retail teams put a disproportionate burden on smaller suppliers, which count on supermarkets for a significant proportion of their overall businesses. She said it was "a lose-lose approach" for the joint innovation agenda.
"Forcing their suppliers to swallow such huge profitability losses in the short term will just lead to more brands going into administration. Cost inflation should be representing an opportunity for brands and retailers if they harness innovation well, but it has to start with a sensible conversation."
She added: "After access to buyers, access to information is the biggest challenge for SMEs. If we can solve this, I suspect it will smooth both existing and prospective supplier relations, saving brands and buyers a significant amount of time. At Young Foodies, we can see a route through this so we will be approaching all retailers to help solve this problem for the benefit of all." 
The Young Foodies survey highlighted Waitrose, Morrisons and Sainsbury's as the retailers supplier SMEs were finding hardest to access.
Alexander said Waitrose, which was previously regarded as the best supermarket when it came to working with challengers, had fallen the furthest. More than 40% of those asked said Waitrose's buyers were either "hard" or "very hard" to communicate with.
A Waitrose spokeswoman said: "Our suppliers are incredibly important to us. While we heavily over index on products from startup brands, we'd welcome the chance to talk to Young Foodies about how we could make improvements."
Despite the big retailers all touting innovation programmes to help challenger brands, the majority of SMEs claimed they had no impact on them.
Co-op fared the worst, with almost 95% of those who had heard of its innovation initiative saying it had no impact, followed by Tesco, Asda and Morrisons.
Sainsbury's, with its Future Brands programme, came out on top as the most effective for challengers, with only 59% claiming it was no help.
"Despite best intentions, the discovery schemes launched by all grocers are just going to drive more overwhelm for diminished buying teams," Alexander said.
"Buyers are under so much pressure, and they cannot deal with the volume of brands being discovered.
"Retailers have sizeable profitability, health, environmental and innovation goals, but working more closely with SMEs is their best chance of achieving them.
"They will need to create a deep culture of the right innovation for their shopper, and discovery-only programmes simply moves the bottleneck – it doesn't remove it. There are affordable, quick and easy solutions out there, but the sponsorship for meaningful change will need to come from commercial directors."