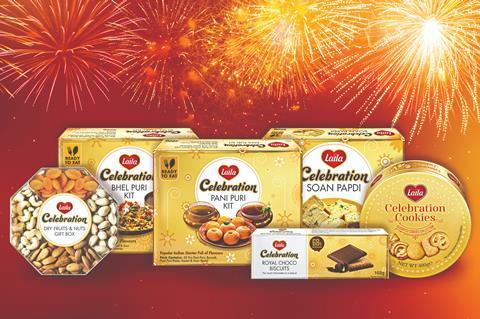 Surya Foods is launching a new celebratory range of snacks and confectionery ahead of Diwali.
The Laila Celebration range includes chocolate gift boxes, cookie tins, nut selections and party food snack packs.
Diwali exclusives for 2021 include traditional Indian sweet soan papdi and chocolate coins.
The range will roll into Tesco, the Co-op, Ocado and independent retailers this month (rsp: £1.10-£5/102g-500g).
It would target "key festivals", such as Diwali and Eid, as well as year-round celebratory occasions, said Surya Foods.
The launch will be supported by a major promotional campaign, titled 'Laila Gold Rush', which will offer shoppers the chance to win a 24-carat gold coin every day in the run-up to Diwali.
The promotion will also run across existing Laila products, including its Basmati Rice and Gold Basmati Rice SKUs.
Diwali was "a huge retail opportunity yet to be fully explored in the UK", it said.
The brand was preparing dedicated displays for independent retailers in the hope that doing so would "foster greater awareness" of the festival, it added.
Surya Foods MD Harry Dulai said he hoped the range would "inspire more people to try some popular South Asian-inspired treats".
"We are delighted to be part of a move aimed at raising awareness of this important festival to bring it to the attention of more people across the UK", Dulai said.