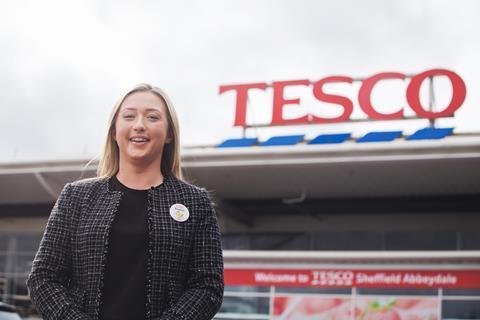 Winner: Tesco Superstore, Sheffield
Store manager: Rachel Fores
Opened: 1997
Store size: 36,335 sq ft
Market share: 11.3%
Nearest rivals: Sainsbury's – 0.1 miles, Asda – 0.7 miles, Morrisons – 0.7 miles, Waitrose – 1.9 miles
Store data source: Analysis by CACI.
Call the market planning group on 020 7602 6000
What is your background with Tesco? I've been with Tesco for 12 years. I joined Tesco as a customer assistant while I was doing my studies, and it's been around seven years that I've been in various different manager roles within large formats. Now I'm coming up to three years at this branch.
How has your branch dealt with the pandemic and supply shortages this past year-and-a-half? Over the past 18 months, it's been brilliant to see how the team in Abbeydale has really come together. The resilience that the team has demonstrated has been phenomenal. Now being recognised as store of the week with the Grocer 33, that's just the cherry on top.
You scored well on stock availability. How do you manage any potential supply issues? We hold availability meetings daily. There are some temporary distribution challenges, which are industry-wide at the moment, but generally we do have good availability in store. The colleagues are working hard to make sure we can deliver everything we can control in store as best we can.
You have a Tesco petrol station outside the store. How is the fuel crisis affecting your branch? We have been busier than usual over the last week or so and the team has done a fantastic job of managing that locally. We're out on the forecourt talking to customers, ensuring we can get people to the right pumps and that the queue times are not too long. We continue to have fuel deliveries daily from our supplier, it's just the demand from the customer that has increased over the past week.
How are you gearing up for potential panic buying from customers who are worried there will be food shortages during Christmas? We have deliveries coming in every day and there's a strong plan in place for Christmas so we can get right at the core of the operation to ensure our stock records are always correct. And if there are any concerns, we feed that back pretty promptly. At the minute, there wouldn't be a standout category with availability concerns.
In this week's 'green shop', shoppers have pointed out that eco-friendly product placements in store often feel confusing and illogical. What is the thinking behind these layout choices? In terms of product placement at store level, we launch the merchandising plans around what is sent to us from the centre. I think there are always opportunities for us to develop, and based on your customer feedback that's absolutely something we can respond to. There will always be room for improvement.
What other green initiatives have you got at the branch? We have electric vehicle charging points located at the front of the store, and we have recycling facilities so customers can return soft plastics regardless of where they bought them – that's gone down brilliantly. We also offer recycling points for batteries, water filters and light bulbs, which we always get positive feedback on.