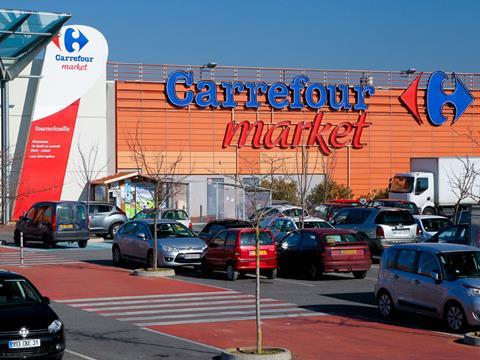 Three years after signing a landmark deal to combine their global buying power, supermarket giants Tesco and Carrefour today announced there would be no extension of the agreement.
The UK's biggest retailer and the French hypermarket empire said they wanted to focus on "their own opportunities" as the agreement signed in July 2018 comes to an end.
The winding up of the agreement is a far cry from the expectations of the alliance after it was formed in the summer of 2018.
In March 2019, The Grocer revealed how leading suppliers had been summoned by Tesco and Carrefour bosses for talks at the French operator's Geneva HQ, as the companies looked to "harmonise rebate terms".
The move sparked fears among suppliers that they would face a major squeeze on prices but the deal has since faced not only the disruption of Brexit and the coronavirus crisis, but also takeover turbulence for Carrefour and a change of leadership at Tesco, with Ken Murphy succeeding  Dave Lewis last year.
Carrefour saw its potential takeover by Canadian rival Couche-Tard collapse at the start of the year, following opposition from the French government. 
Meanwhile, Murphy has appeared determined to simplify the Tesco operation since taking over from Lewis.
In a joint statement the companies said today: "Over the last three years, Tesco and Carrefour have benefited from a number of joint buying opportunities across food and general merchandise categories, enabling access to new suppliers, new sources and new products.
"Moving forward, both companies have agreed that they will continue this work independently and focus on their own opportunities, building on the experience and the progress made during the alliance period."
David Sables, CEO of Sentinel Management Consultants, said: "I think the decision is a wise move. 
"The benefits of the deal were always questionable. Whether it was an attempt for the two partners to be able to to sell their products across their respective territories, or an attempt to create a buying group which would put the squeeze on suppliers, there has been very little of evidence of success either way."
Shore Capital analyst Clive Black said: "At the time of the announcement of the Carrefour-Tesco alliance, we questioned whether or not we would ever be able to identify any benefit of the alliance in either groups' financial statements, and we think the answer is clear."