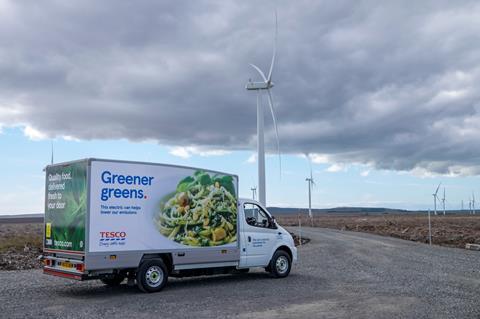 Tesco has committed to hitting net zero emissions across its entire value chain by 2050.
The commitment covers all emissions generated across the retailer's value chain, including those generated by its supply chains, from the sourcing of raw materials to food production, as well as those generated by the products it sells.
Tesco is also going to take into consideration the food waste aspect of its value chain, as well as consumer trend data that shows a shift towards plant-based food contributes to cutting emissions.
"In this critical year for tackling climate change, it's right that we set out this ambitious commitment to cut emissions across our entire value chain," said Tesco CEO Ken Murphy.
"We don't yet have all the answers and we'll need support from our suppliers and wider society to meet our targets, but it's vital we take action now."
Emissions generated by Tesco's products and supply chain make up over 90% of its total emissions footprint.
The company wrote to its suppliers on Thursday to ask for their help in achieving its low carbon emission targets.
Chief product officer Ashwin Prasad said that he was "encouraged" by the fact that 100 of Tesco's largest suppliers had already reduced manufacturing emissions by 20%.
"It's vital we continue the good work in our own operations but also drive collective action with our suppliers to achieve these new commitments," he added.
Tesco also announced plans to reach a group-wide net zero target of 2035 for its own operations, bringing it into line with the UK ambitions it set last year.
The group will set out a clear strategy for achieving the new goals over the next year and it will provide an annual update on its own progress.
Some of the measures will include supporting suppliers in establishing their own net zero targets and trialling innovations to reduce emissions from agriculture.
It also plans to accelerate operational decarbonisation across sections such as transport and refrigeration, which are typically key emission hotspots.
Furthermore, the grocer wants to cut CO2 emissions linked to customer's dietary habits by increasing the sales of plant-based products.
"These new commitments will bring an unprecedented level of transparency to our emissions footprint and will allow us to identify and tackle those areas where urgent transformational change is needed," Murphy said.
Tesco has been implementing a series of sustainability-focused initiatives in recent years. Last year, it said it aimed to have a fully electric delivery fleet by 2028 as part of its goal to rech net zero by 2035.
And just last week, it launched a refillables aisle trial across 10 stores, featuring both branded and own-label products in reusable and durable packaging.
Tesco also recently brought forward its in-store soft plastic recycling scheme to all large Tesco shops.
WWF CEO Tanya Steele said Tesco's latest move would create momentum ahead of the United Nations Climate Change Conference (COP26), which kicks off on 31 October.
Steele added it would encourage other big companies to match this ambition, as well as press the government to set out clear legislation that requires all businesses to publish "credible net zero plans".