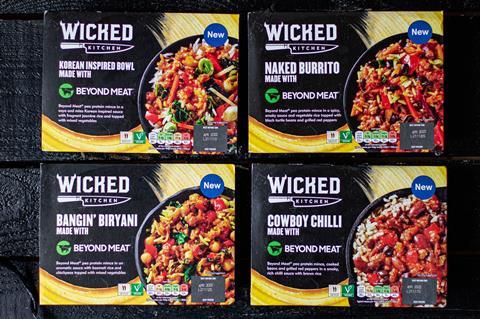 Tesco has teamed up with plant-based giant Beyond Meat in a move that will see its product used as an ingredient for the first time in UK retail.
The supermarket has expanded its exclusive plant-based Wicked Kitchen lineup through a new range of frozen ready meals, with four of its six new SKUs made using Beyond Meat's pea protein-based mince.
The vegan NPD – which rolled into stores this week – also marks the first time Beyond Meat's mince product has been available in the UK, and the first time it has collaborated with another British food manufacturer.
The high-protein ready meals are inspired by exotic dishes from around the world, and consist of a Korean Inspired Bowl made with Beyond Meat; a Naked Burrito made with Beyond Meat; a Bangin' Biryani made with Beyond Meat and a Cowboy Chilli made with Beyond Meat (rsp: £2.75 each).
A Peng Panang Tofu Curry and Sriracha Tofu & Rice were also unveiled as part of the launch this week.
The involvement of Beyond Meat in the NPD follows a major expansion in its UK supermarket presence this year via new listings in Waitrose and additional listings with Sainsbury's in April. The move also follows the opening of Beyond Meat's first European factory in the Netherlands last year.
It comes as plant-based food continues to be the biggest culinary trend this century, with current demand for chilled meat-free food in Tesco growing by almost 40% over the past year, according to March data from Kantar.
Tesco also committed last autumn to grow its plant-based meat-free alternatives by 300% by 2025.
Wicked Kitchen founder and Tesco director for plant-based innovation Derek Sarno said: "Both Wicked Kitchen and Beyond Meat have worked hard to create excitement in the world of plant-based food in the UK and we are thrilled to be working with them on this new range.
"We hope that the launch of these new meals will encourage more people to give plant-based food a try. Early feedback from people who took part in food trials for the new range was that they did not believe the meals were vegan."
Sarno, who brought Beyond Meat to Tesco in the autumn of 2018, added it was "great to be collaborating again and working with them on these new meals".
Tesco's new ready meals offered "a simple and delicious solution without having to sacrifice on flavour or convenience", said Beyond Meat chief growth officer Chuck Muth.
"We are proud to be the bestselling chilled plant-based burger at Tesco and look forward to continuing our partnership with one of the UK's top retailers as we work to satisfy consumers' growing demand for delicious, nutritious and sustainable plant-based meat across Europe."