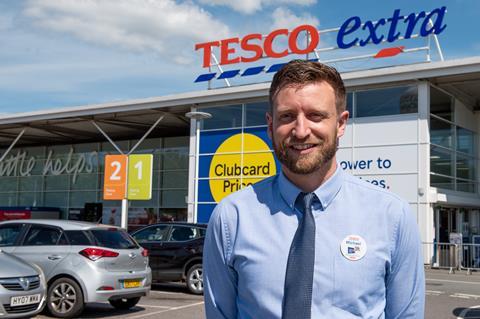 Winning store: Tesco Gillingham
Lead manager: Michael Smart
Opened: 1994
Size: 70,000 sq ft
Market share: 28%
Nearest stores: Sainsbury's – 2.3 miles, Asda – 4.0 miles, Morrisons – 4.2 miles, Waitrose – 12.1 miles
Store data source: Analysis by CACI.
Call the market planning group on 020 7602 6000
How has this week's announcement of a 2.7% pay rise for staff been received? It's gone down really well. Staff are really pleased with it and they definitely deserve it, having worked so hard over the last year. It's nice for them to be rewarded for the fantastic effort they've put in.
How have you worked on availability and service and has this changed as lockdown has eased? During the pandemic, we have had to come across very welcoming but also keep the focus on safety. That's an important balance, especially when you're dealing with limited numbers and a traffic light system on the door. Since lockdown has eased we have kept that focus. We realise in some cases, we might be the first people shoppers are speaking to since they've been out of their houses, so it's a big responsibility. At the moment the priority is still on keeping customers safe.
Have you been hit by the shortages of garden furniture? It is having an impact. There was such a huge uplift at the beginning of the year, absolutely huge. So we're short on furniture, but our core garden range is going really well and with the hot weather we are having a real boom in things like barbecue food.
What do you have lined up for Euro 2021? We have a lot of deals on beer in the pipeline. I think there are a few TV offers coming out although we haven't had them confirmed, but it's going to be a great chance to boost sales. At the same time, we have a lot of competition from the out-of-home sector. It's great to see pubs reopen and as Tesco said in its recent advert, we hope they do well too, even though they are competition.
It's a large store. Have any changes been made to the layout? Yes, it's a big shop and we have just made some adjustments to the layout to make sure we are optimising the space. We've reduced the size of some of the non-food areas, but we've doubled the size of clothing. It makes sense because general merchandise sales have slowed whereas clothing has been going strong.
Has food to go bounced back since lockdown restrictions have eased? We have made some changes to our grab and go offer. We have a new deli offer, with tapas, olives and those sorts of products. We've definitely started to see an uplift in food to go in recent weeks, and we're also very lucky we have a butcher and a fishmonger in store as well as the deli.
Tesco UK CEO Jason Tarry this week spoke out about increases in violence against staff. Has that happened at your store? I'm pleased to say we haven't seen that here. However I completely support what he was calling for on a national level about protecting shopworkers.
As lead manager, what are you most pleased with in store at the moment? I think it would be the impact of our Clubcard Prices initiative, which is really impressive. It's gone from a trial on limited products to something that is now a huge part of the store experience and I think the customers really appreciate it.