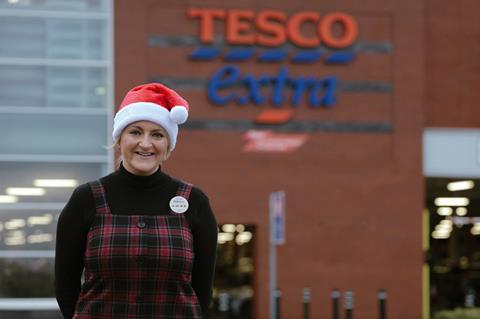 Duty manager: Rebecca Taylor
Store: Tesco Park Road, Toxteth, Liverpool
Opened: May 2011
Size: 59,500 sq ft
Market share: 15%
Population: 684,101
Grocery spend: £16,970,744
Spend by household: £55
Nearest rivals: Aldi 1.3 miles, Asda 1.4 miles, Co-op 0.8 miles, Iceland 1.4 miles, Lidl 1.6 miles, M&S 1.6 miles, Morrisons 4.3 miles, Sainsbury's 1.3 miles, Tesco 0.8 miles, Waitrose 12.4 miles
Source: CACI. For more info visit www.caci.co.uk/contact.
Notes: Shopper profiling is measured using Grocery Acorn shopper segmentation. Store catchment data (market share, population, expenditure, spend by household, competition) is within a five-mile radius. For CACI's shopper segmentation of the other stores we visited this week, view our service & availability report.
Tell us about your background with Tesco and this particular store. I started with Tesco at the age of 16 and did various roles – the latest being the group shrink and security partner role, where I managed about 140 stores across the region. I've always wanted to be a store manager, but never really had the belief that I could. With real encouragement from some people that supported me along the way, I did my store manager placement last year. So tthis was my first appointment as a store manager. It's been really challenging but it's an exciting opportunity, I grabbed it with both hands and I've really tried to put my stamp on it. Leading a team of people is what makes me tick.
What is your management style like? Very inclusive. Every colleague is unique and they don't realise always how important they are. I try to make sure I know every single person's name and make myself very approachable. The colleagues like to read and know what the store manager's priorities are and I do communicate that to them through my weekly colleague comms and talking to them in person. So long as we're looking after our customers and colleagues, you can't go wrong. I approach things in that way, and so far so good – winning this award was just the icing on the cake.
How would you describe your neighbourhood and how do you cater to its demographic? It's a price-sensitive store, given the area we're in. We cater for our customers brilliantly well with our low everyday prices and our Aldi Price Match, and we've got some brilliant prices for our regular customers that have a Clubcard. The own-brand products we sell are really good.
How could improve in terms of catering to younger people and students? I think sometimes in a price-sensitive store you can forget about your population of students. There's a lot of housing developments and apartments in the area and we do have quite a high population of students that shop with us. [They] are also interested in healthy eating and eating sustainably, so they will come in and target our Free From and our plant-based sections.
Is there one thing you're particularly proud of having achieved since May? We've successfully implemented Click & Collect since I've been here. We launched it in September. It's a fantastic service and it's been a real success for Park Road. It's quite highly used by our student population and people that are passing through from the city to go home. In terms of its growth, it's a brilliant time to launch because we're only seeing our orders now increase as we head towards Christmas and I'm really hoping that a lot of those customers will stick with us after Christmas.
What are the specific challenges about running this store? It's a large store, but what we do is the same in every shop. For me the biggest challenge has been reassuring our customers and colleagues that, during a really uncertain time, we are here to look after each other and give them confidence that they can shop and work safely.
Are all your staff wearing face masks since the new government guidance? I wouldn't like to put a number on it, but where people aren't exempt, they are wearing a face mask or visor.
What about customers? There's certainly more people wearing them. If customers ask for them, we have them at the front of store. But I think it's been very difficult for people almost having to retrain themselves to wear a mask again. The store is quite large, and it's got really high ceilings. So the air flow throughout the store is good, so we are fortunate really with the layouts. But we've not removed anything that we had previously for Covid.
What's your position on keeping the store open for Boxing Day? We operated 'if you want to work, you can work' and we've got quite a high uptake. If colleagues don't want to work, we're then arranging holidays or whatever else to ensure that they can have the time off with their families.There are fears that strikes in Tesco warehouses may affect Christmas deliveries. What are your thoughts on this?
Given what we've faced in the last two years, I'm pretty comfortable for anything that comes our way now. I think Tesco, the supply chain and distribution have dealt with things amazingly well. I have no doubt that they'll have plans to support the stores, and we're pretty good at turning things around when we need to. I've certainly got more than enough stock on my shelves to warrant a decent shop if it happens, so I'm not overly concerned with it.
How are you planning to improve how the store is run beyond Christmas? I am looking at our colleagues and how can we multi-skill them and ensure we are able to move them across the store. The colleagues love it because they love learning new things and it really changes up their day. But I'm not a leader that likes to rewrite things. I do what the business wants me to implement and I think the stuff that we will be working on in the new year is: how do we deliver the basics brilliantly?