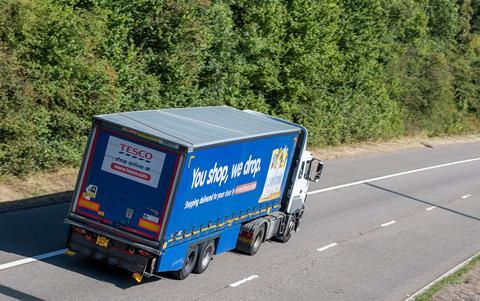 Tesco will task suppliers with taking food across the Irish Sea border under plans to tackle the burden of supplying Northern Ireland once full checks begin in October.
Two suppliers told The Grocer they had been asked by Tesco to start shipping directly from Great Britain into the Republic of Ireland, from where the supermarket will transport their goods north of the border.
Tesco still intends some products to come into NI direct from GB, but suppliers have been told they may have to navigate the border themselves.
The move would mark a significant change in Tesco's supply chains as it looks to adapt to the post-Brexit border arrangements, which impose checks on goods moving from GB into NI.
Until now, Tesco has typically arranged for goods to be collected from suppliers' depots in GB before transporting the stock directly into NI itself. But with full checks set to begin between GB and NI in October, this arrangement looks set to end for some suppliers.
"They think it's going to be too complicated for them having consolidated loads [of mixed products]," suggested one British manufacturer, who learnt of the plans via Tesco's Brexit-focused webinars with suppliers. The source said the move could mean an increase in haulage costs and would lengthen lead times.
"It sounds like they're passing the s*** down the road," said one logistics operator.
The new Irish Sea border has caused headaches for all the major supermarkets in the region, with M&S announcing this week it had already added £30m of costs to its business on the island of Ireland.
While M&S is among those to have begun buying certain products directly from the EU, Tesco is seemingly the first to engage with suppliers on the problems of British sourcing.
"Tesco's ahead of the curve," said one supplier asked by Tesco to adjust their shipping route. "We haven't had requests from anyone else."
A Tesco spokeswoman said it was "early in these conversations" and the supermarket was "committed to working collaboratively with each of our suppliers.
"The upcoming requirements for transporting certain food in Northern Ireland are very complex and we are speaking to our suppliers about how we can make this process as efficient as possible over the next few months."
Clive Black, a retail analyst at Shore Capital, said Northern Ireland's presence in the EU single market due to Brexit meant Tesco's NI business was in many ways more closely aligned to its ROI operations than GB. "So from a logistics perspective it makes eminent sense to consolidate everything in the Republic and cross sort it into Northern Ireland."
Yet some suggest the changes could at least in part be driven by resistance from hauliers. Tesco and other supermarkets run "primary collection" services using third party hauliers to collect goods from suppliers' own depots before transporting them to supermarket distribution centres.
However since the new year, some primary services have been unwilling to take orders across from Great Britain into Northern Ireland, said Jack Fleming, CEO of Chill Chain, a cold-chain logistics platform, who suggested it's "a resistance from the hauliers then being voiced by the supermarkets."
Even on Tesco lorries still moving across the Irish Sea, hauliers have already acted to reduce the risk of disruption. Hauliers typically fill a lorry with around 80% of supermarket produce and the remaining 20% is used for other smaller businesses, explained Shane Brennan, CEO of the Cold Chain Federation. However, in order to ensure continuity of supply, some hauliers are now opting to leave the 20% of loads behind.
"There's empty space that won't be filled because the supermarket won't allow it. And the hauliers won't allow it because they don't want to default on their main customer," said Brennan. "It all just plays into making things easier for big companies at the expense of small companies."