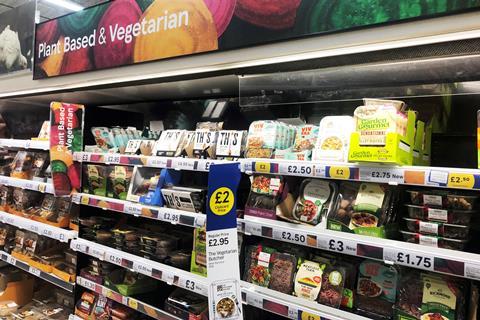 Tesco narrowly edged out Sainsbury's to pick up the store of the week award in our special sustainability-themed Grocer 33.
Our 'green' grocery list put the store layout to test – our shopper struggled to find some of the chilled vegan items, which could be located both next to the regular produce or in a specific vegan area.
However, with 81 points, Tesco's Sheffield branch impressed with strong availability (only one item on the list was not stocked). The only noticeable shortages were pasta, mayonnaise and canned drinks.
The aisles were wide, clean and mostly uncluttered, which gave the store an airy feeling. In addition, a few of the end-of-aisle promotional displays were eye-catching.
Staff were busy restocking during our shopper's Friday morning visit, but they all took care not to obstruct customers. They were, "without exception", smart, polite and helpful.
Sainsbury's was just one point behind. Its branch in Nine Elms was clean, spacious and appeared new. The store layout and signage were very helpful, considering it was a large store.
The vegan 'meats' were clearly identified in a separate area. However, some of the other "green" or organic products were found among the regular items – which made it harder to identify them.
While none of the items on our list were out of stock, four of the items were not stocked at the branch – which staff made sure to double-check on their handheld devices.
Next up was Morrisons in Bridport with 66 points. One of the first things that our shopper noticed was the queue of people trying to get petrol. The store responded to this by placing some dividers near the entrance so regular shoppers didn't have to queue to get into the car park.
Our shopper found the store signage easy to follow, and the promotional displays big and clear. All the food counters displayed and presented items "beautifully". However, as a 'green shopper', she found it tricky to locate certain items.
In general, availability appeared good throughout the store except for a "bare" cake area. All shop floor staff were helpful, and the checkout experience was smooth and efficient. Our visitor went home with 28 items as one was out of stock and four lines were not stocked.
Asda's superstore in Washington and Waitrose's Billericay branch tied with 62 points each.
The former impressed our shopper with its cleanliness and tidiness, "unlike previous visits". Overall, store standards were high and availability was good. However, our shopper thought the organic fresh produce section was confusing as it spread over two areas, and she had similar concerns to our other shoppers in regards to "eco-friendly" items being placed in non-prominent shelving positions – leading her to believe that "Asda doesn't seem to promote green thinking".
There were a large number of restocking cages across the store, as well as several staff members picking online orders, which made navigation difficult for customers at times.
Meanwhile, Waitrose struggled the most with availability. Three of our items were out of stock and three others were not stocked at the store.
Still, our visitor found it to be bright, clean and generally well stocked. The food counters were full, and the fruit & veg section was well presented.
Staff were generally helpful and apologetic whenever certain items were not available.