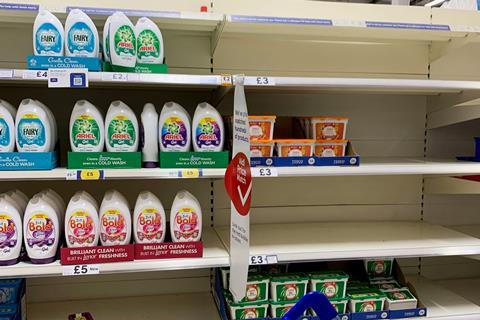 Just one point separated Tesco and Morrisons in this week's Grocer 33. Tesco's branch in Ivybridge, Plymouth, scored 74 points – in a store with a "great atmosphere".
Despite some noticeable gaps on shelves – three of our visitor's items were out of stock – including the Ariel washing gel, flapjack bites and salad tomatoes – there was a large variety of products and still enough alternatives available.
She said the store felt wide and spacious, with a logical layout. Some of the displays that caught her eye included the Halloween section, as well as the half-price toy sale.
While it was busy with shoppers, it still felt calm and the checkout area was well managed. In addition, staff were helpful and friendly, and they mostly wore face masks and respected social distancing.
Morrisons in Boroughbridge scored 73 points, even though it struggled with quite a few gaps throughout the store. The store was all out of bananas, and many of the promotional end of aisle displays were empty.
Restocking boxes caused obstruction in some areas of the store. Our shopper also noticed a "rather strange situation" near the bakery area, where an entire walkway was blocked with stock. Additionally, there were not many staff available.
However, our visitor considered the branch to be of a good standard and well maintained, with only two items out of stock.
Third-placed Asda scored 58 points. Our shopper found the car park and store entrance signage confusing at the Basildon Eastgate shopping centre store.
Some litter by the store entrance made it look "scruffy". Our shopper also noticed customers having to navigate their way around several unmanned restocking trolleys and empty boxes throughout the store.
Availability was poor in certain areas of the store, such as in the chicken, bread and tonic water sections. The store layout and signage was confusing to our shopper, who said some products were misplaced. In total, she bought 30 items.
She found staff to be largely unhelpful. She also described the checkout assistant as unfriendly and "more interested in eating her packet of Rolos".
Sainsbury's Stamford branch trailed by a further four points, mainly due to poor availability. Three of our items were out of stock, with five not stocked.
Staff were friendly but not overly helpful – she said they only pointed to the general area when asked for help finding items. The limited promotional activity at the store entrance looked "thrown together", she added.
The till area was well managed, but the checkout assistant did not engage in conversation nor ask for the loyalty card.
This week's last place belonged to Waitrose, which scored only 49 points. Our shopper found the retailer's West Hampstead branch tricky to navigate. It was a big store split into several different sections with quite a few pillars in the middle – which restricted the flow of people and did not allow for social distancing. She also noticed several restocking trolleys on the shop floor, with the majority waiting to be emptied.
The food counters looked attractive and had a wide variety of products, though the deli was unmanned – forcing our shopper to walk around and find someone to assist her.
Most staff were helpful and walked her over to the products she was looking for. However, one "made no effort" to help her locate some items.
In terms of availability, four of our items were out of stock.