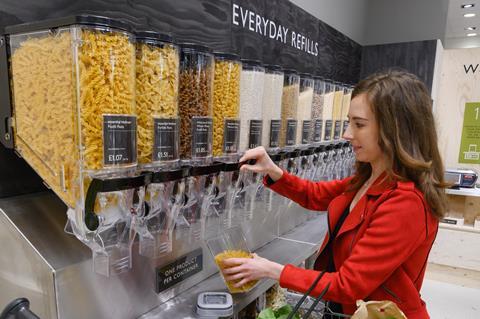 Waitrose has expanded its refillable range after customer demand for plastic-free products increased over the past few months.
The retailer has launched 13 new products based on customer data as part of its 'Unpacked' scheme, including loose tea, popcorn and dried fruit.
Waitrose has seen growing demand for package-less items at its four Unpacked shops, with sales of refillables rising nearly 9% over the past six months. Some products have proven to be particularly popular, such as frozen fruit & vegetables, followed by detergent and washing-up liquid, as well as pulses, pasta and grains.
The new refillable lines will be cheaper than their packaged equivalents to encourage customers to opt for the zero-waste versions.
"We are really beginning to find some momentum with customers demonstrating that this is how they might be prepared to shop with us in the future and we are especially encouraged by the response to moving the concept in-aisle to make it more of the norm when visiting us," said Marija Rompani, Waitrose director of ethics & sustainability.
In January, Waitrose integrated the Unpacked concept among the main aisles at its Oxford store rather than hosting it in a separate area. It said the move had boosted refillable sales by 20%.
Waitrose's Unpacked is currently available at its stores in Wallingford, Abingdon and Cheltenham, as well as Oxford. It said there would be more lines available later this year and that there was the potential to expand the initiative to other stores in the future.
"We know there is much more work to do, but the reaction of customers right now is giving us the confidence to continue moving forward with Unpacked," Rompani added.
Source: www.thegrocer.co.uk