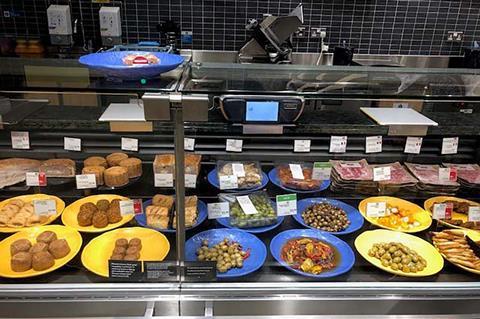 Waitrose in Bracknell has earned its third store win in as many years thanks to a spacious and tidy branch with friendly staff.
The well lit, clean and easy to navigate store racked up 89 points, pipping Tesco to the post for the store of the week award. Our shopper did not notice any empty shelves and noted that stock availability was top notch across all sections, including the deli area and sushi bar.
The "smart and well-presented" staff were friendly and helpful, and her shop was quick and efficient thanks to the good signage at the store and a short  waiting time at the till.  
Trailing behind by just one point was the Batley branch of Tesco, which had "lots of offers about" this past Sunday, including a Father's Day display.
One of the highlights during our shopper's trip was the "well-stocked and attractive" bakery and deli (though the butchery wasn't up to the same standards), as well as the "very helpful" cashier.
Despite the only Linda McCartney's sausage packet on the shelves being open, our shopper managed to pick up all 33 items on the list.
The "inviting" Asda branch in Newton Mearns came third with 77 points. Its food section was varied and well-stocked, and our shopper noted the "fun and bright" Euro 2020-themed snack & drinks display.
She was able to buy nearly everything she needed, except the own-label muffins and Nature Valley oat bars. The "very well dressed and polite" staff helped customers use the tills for a faster checkout experience – though our shopper felt extra tills could have been opened.
The one aspect of the store layout that confused her was that different dairy products, as well as meat and fish, were in separate areas.
Coming in fourth with 65 points was the Newcastle-under-Lyme branch of Sainsbury's, which our shopper described as logically laid out, tidy and well-stocked aside from a couple of shelving areas.
She pointed out that most fresh counters, including butcher and deli, were still closed due to the pandemic, and that the bakery selection was limited. However, the two members of staff that our shopper spoke to ensured that she found the items she was searching for.
Availability seemed to be the biggest problem for this branch, as our shopper left without four of the items on her grocery list.
Lagging behind by six points was Morrisons Stamford, which felt quite chaotic to our shopper due to what appeared to be staff shortage. There were two spillages (both of which were signalled) and one restocking ladder obstructing an aisle. Furthermore, the 'pizza' aisle sign was incorrectly placed.
The store was "generally well stocked with only a few noticeable gaps" and our shopper grabbed all the necessary groceries. The staff were "very friendly" but busy at the tills.
With only 45 points, the last spot went to Lidl in Wandsworth, London. Perhaps due to its convenient location near Stockwell tube station, the supermarket "felt crowded" and there were many shoppers about on Sunday morning.
Our shopper was confused to find frozen pizzas in multiple places rather than in just one section, but pointed out there was a good range of own-label items on offer.
While staff were not "particularly approachable" due to how busy the store was, our shopper still managed to share a joke with the cashier about how quickly she scanned the items.