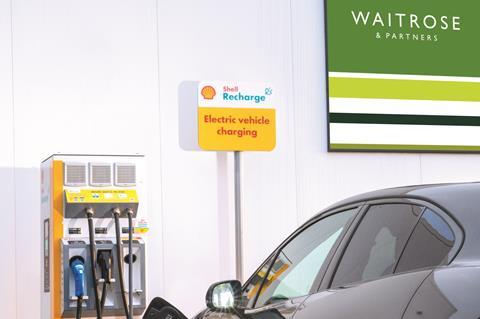 Waitrose is adding up to 800 Shell electric vehicle charging points in stores across the country by 2025.
The EV charging stations will be installed in as many as 100 of the retailer's shops throughout the UK, representing nearly a third of its estate.
The first site is due to launch early next year, allowing customers to recharge their cars in the rapid charging points while they do their shopping.
"This is great news for EV drivers across the UK, knowing they can easily, quickly and reliably charge up at Shell charge points while shopping at Waitrose," said Shell UK retail general manager Bernadette Williamson.
"We want to make EV charging as hassle-free as possible and support our customers wherever they want to charge."
The oil and gas giant plans on expanding its "destination charging" locations, where electric vehicle drivers can park and charge their cars while undertaking another activity such as grocery shopping.
In addition, the number of Shell forecourt shops that sell Waitrose products, is more than doubling over the next four years to a total of 125.
This is part of the two companies' expanded partnership, which will also see the John Lewis Click & Collect service being added to an additional 80 Shell Select stores this summer.
This will take the total number of stores where the Click & Collect service is available to 1,000, which the retailer has achieved via partnerships with the likes of Shell, Booths and Co-op.
"This is an important partnership for Waitrose and means we can offer even greater convenience to more of our customers," said Waitrose executive director James Bailey.
Waitrose has ramped up its store pick-up and home delivery operations in recent months, having announced plans to extend its partnership with Deliveroo to 150 stores by the end of the summer.