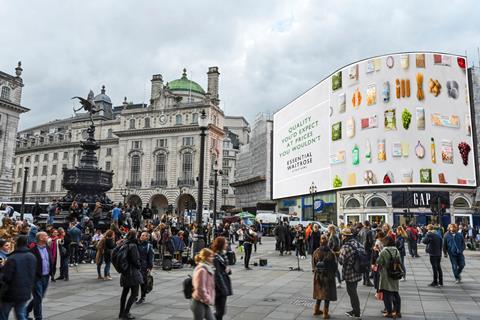 Waitrose has debuted a massive marketing campaign highlighting its value range, Essential, as customers face soaring food and energy costs.
The upscale retailer is showcasing its new Essential Waitrose value campaign – 'Quality you'd expect at prices you wouldn't' – at London's Piccadilly Circus billboard screens.
The campaign is running from 25 April to 1 May and is expected to reach an audience of over a million people over the course of the week.
The Essential Waitrose marketing push is set to showcase the breadth of its value range as well as highlight the provenance behind some of the key products, including pork, milk and fish fingers.
"We're very excited about this ground-breaking first for us," said Waitrose customer director Martin George.
"As customers look for ways to make their money go further, it's the right time to promote the unmatched quality and value of our Essential range, which offers over 1,000 great products.
"Piccadilly Lights are so iconic and reach an audience of over a million people a week, so we know it's an effective way to amplify this campaign."
Rival food retailers are ramping up the competition as the cost of living crisis is putting a strain on shoppers' budgets.
On Monday, both Asda and Morrisons announced they would be slashing prices across several essential ranges to help struggling customers.
It comes after M&S also announced it was dropping prices on a number of key everyday lines across its affordable Remarksable range earlier this month.
The grocer too is investing in a major marketing campaign that will see M&S Food ads highlighting farmers run across different TV channels and multimedia platforms from April to September.
Meanwhile, Tesco and Sainsbury's are focusing on their Aldi Price Match campaigns to keep customers from heading to the discounters amid soaring inflation – two weeks ago, the Office for National Statistics said the consumer prices index (CPI) hit a 30-year high of 7%.