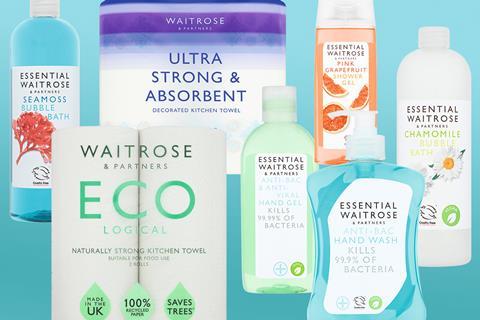 Waitrose has announced "significant" plastic reduction savings across a number of key household and bathroom lines.
The retailer has relaunched an array of own-label lines that aim to reduce plastic usage across non-food categories.
"We are making a concerted effort to reduce our use of virgin plastic across our non-food categories including products like toilet tissue, hand wash, kitchen towels and household and laundry bottles," said Waitrose's assistant product developer in grocery non-food, Sophie Bullen.
"This includes using even more recycled plastic content and preventeing ocean plastics wherever we can – all part of our drive to ensure all of the plastic packaging used for our own-label products is recyclable, reusable or home compostable by 2023."
Some of the plastic-saving measures across washing and bathing products include lighter weight bottles and caps, as well as a new refill hand wash line that features a cap to refill other bottles or dispensers and reuse existing pumps.
Additionally, the new bottles of some Essential Waitrose items such as hand wash, body wash and bubble bath now include more recycled content – saving around 20.6 tonnes of virgin plastic a year.
Waitrose also reduced the cardboard used in own-brand kitchen towels, saving 81 tonnes of cardboard alongside 997 tonnes of CO2 that is used in production every year. The number of sheets were also increased from 50 to 100.
The company also removed the handles of mid-tier toilet roll, wound the tissue tighter and included 30% recycled content, saving 11.9 tonnes of virgin plastic from being used every year.
The core of own-label toilet tissue inner was also reduced, resulting in cardboard savings of 49 tonnes and virgin plastic savings of 29.7 tonnes a year.
The latest measures are part of Waitrose's plans to make all its own-brand packaging reusable or made from recyclable or home-compostable material.
According to the grocer, around 86% of its own-label packaging meets that goal so far. It also plans to halve single use plastic across own label by 2025.
Waitrose has introduced eco-friendly shopping alternatives to customers over the past couple of years, such as its refillable concept, Unpacked, which has now expanded to four stores.