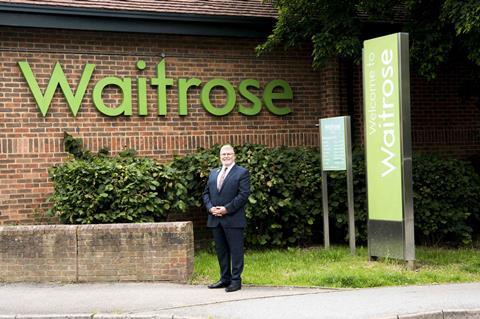 Winner: Waitrose Yateley
Store manager: Simon Cuzner
Opened: 1990
Size: 14,000 sq ft
Nearest rivals: Tesco  – 4.5 miles, Sainsbury's – 5 miles, Morrisons – 5.7 miles, Asda – 7.3 miles
Store data source: Analysis by CACI.
Call the market planning group on 020 7602 6000
I understand you have a long history with the store? I certainly do. I was junior manager here when the store opened in 1990 and came back five years ago as store manager. We are in a very big area in terms of population and as such the store has a real community feel. We have a large number of long-serving staff who are locals as well. I think community spirit  also translates into how customers behave in the store and treat everyone with respect.
We visited your store on Sunday ahead of the Euro 2020 final – how busy a day was it? We certainly were very busy. Our sales were up 17% on the previous Sunday and the weather was good so people had plenty of time to get together before the game. We sold a lot of everything related to enjoyment, really – beers, sharing bags of crisps and a lot of barbecue food. It was a shame England couldn't quite lift the trophy in the end but the success of the team really did lift spirits and provided a boost in sales over the last month. It was also pleasing we had such a strong day on Sunday despite the availability challenges everyone is facing.
What can you do to mitigate those availability challenges? We are doing all we can at store level but it is tough. Obviously it's linked to the driver shortage and I don't think it's easy for any retailer at the moment. We are coping as best we can with late deliveries and missing stock. We are still able to give a great service to our shoppers who come into the store, as well as around 900 e-commerce orders a week.
How are you feeling about the lifting of Covid restrictions next week? I've been really proud of our safety and cleaning protocols during the pandemic, and the comments from shoppers on our Have Your Say site show we have been leading the way on these in terms of our local area. Obviously from next week there will be a different balance and we will look to rely on people to do the right thing. We will be keeping the screens up at checkouts and continue to encourage customers to wear masks, but we won't be enforcing that, and we will also stop limiting the number of customers entering the store.
Tell me about the vaccination centre next door? The GP surgery across the way has become a vaccination centre and we have given over half of our car park to it. We've worked closely with them and made sure we are providing the volunteers with refreshment – it's all part of the community involvement.
Our shopper spotted a hole in the ceiling, what is being done about that? It's because of the age of the store, really. We have a flat roof which has led to a leak. We are due for a refurb shortly that will sort this as well as giving us more room for the e-commerce team.
Speaking of rain, you'll no doubt be hoping for better weather this summer? Absolutely, it's not been great up to now so we're definitely hoping for more sunshine over July and August and maybe an Indian summer as well. It's really a boost for everyone and generally people feel a lot more positive when the sun shines.