Overall maple syrup use is up in Ontario during the COVID-19 pandemic, but restrictions on gatherings and a string of early-season warm days and nights have producers across the province worrying whether they'll be able to take advantage of that demand.
"Most syrup producers are finding ways for people to purchase their syrup safely," said Ontario Maple Syrup Producers Association (OMSPA) executive director John Williams in a recent interview. "We're asking people to contact their local producer and try and support them as best as they can."
Why it matters: The maple sector is now adjusting to shifting pandemic realities for the second consecutive year.
Sales channels vary depending on the operation, but Williams says those who traditionally rely on moving a high percentage of their syrup in conjunction with on-site pancake breakfasts and brunches have faced particular challenges due to the COVID-19 restrictions. 
Plus, anyone without a good social media presence has found it difficult to communicate to the public about alternative avenues for acquiring locally processed products.
A glance through the websites of maple bush operators across the province reveals a range of strategies to cope with prohibitions on large-group gatherings. Some have reverted to order-in-advance outdoor pick-up of pancake meals while others have cancelled their springtime tours and events altogether.
"On our farm, we would sell about 15 per cent of our syrup through our festivals," Williams explained of his family's 3,400-tap, Wyebridge-area sugarbush. So they had to adjust – both in 2020 and again this year.
"We were lucky; we already had a toehold into (social media) so we were able to get the message out about how people could get our syrup in other ways."
Overall, though, maple syrup consumption saw a COVID-19 effect similar to other common kitchen ingredients. "With people cooking more at home, there's actually more syrup being sold through the pandemic," Williams reported.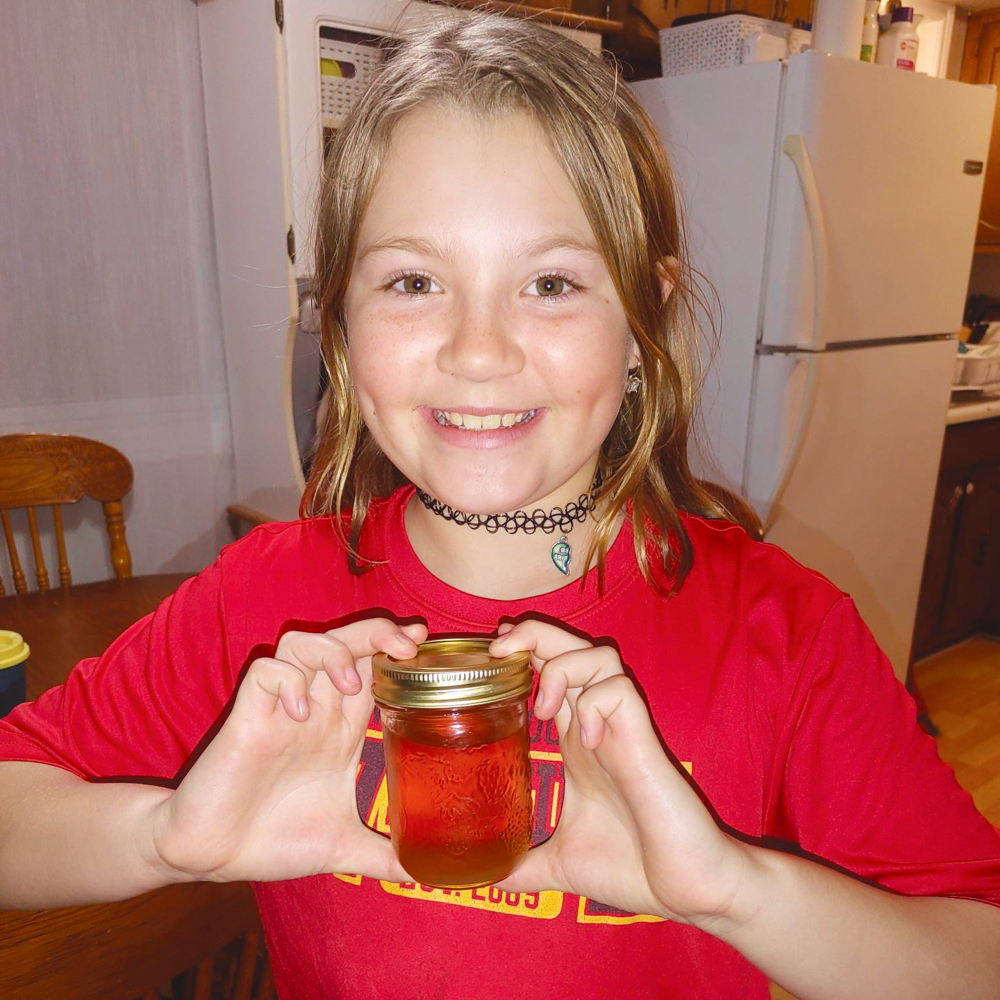 As a result, producers with established relationships with grocery stores or other retail outlets "saw a huge jump in demand. I have heard a bit lately about people being sold out, which they're not used to."
On the larger-scale side, commercial producers apparently saw this trend coming as they prepared for the 2021 season. Unofficially at least, the total number of taps increased across the province. Williams has heard of back-ups in supply chains for tapping and collecting supplies as well as processing and packaging materials.
"I ordered bottles in the fall and I'm very glad I did."
On the smaller scale, supplies have also been tight on the spiles and pails typically employed by do-it-yourselfers.
"All we have left are few spiles," said the manager of Thorndale's Ace Hardware, who added the store quickly sold out of its 2021 shipment of "starter kits" featuring everything you need to make your own syrup. She said that, in keeping with a COVID-19 trend to more people getting outside and doing things together as a family, do-it-yourself syrup saw a strong uptick in 2021.
The Murrells are one Thorndale-area family that tapped trees for the first time this year. Dad Andrew told Farmtario his 10-year-old daughter Jennifer first proposed making syrup a little less than a year ago – after the 2020 season had ended – and he told her she would have to wait until February. When February came around and she reminded him about her desire, he headed to Ace Hardware and bought enough supplies to tap four of the maples in the farm's bush.
They used roasting pans on a woodstove converted to heat their backyard pool, ultimately boiling down four pint jars and two smaller jars of tasty syrup. "So far, we've had pancakes and French toast," reported Mom Rachel. "The kids (Jennifer has a younger sister and brother) are very eager to use it up."
Next year, Andrew has his sights set on tapping 10 trees. "It was a great time doing it," he said. "(Jennifer) was out there every day with me collecting sap so it was nice to see."
For the Murrells, however, the season was short. Situated as they are in the southern portion of the province, a stretch of warm weather in early March spurred bud formation on his four maples and he decided to pull the taps.
In Simcoe County, Williams wasn't yet at that point and remained hopeful that the season for his farm – as well as for others across all regions of the province – might yet be extended if cooler weather can return soon.
"It can change on a dime," the OMSPA executive director said of Ontario's springtime weather.
Without freezing temperatures at night, he explained, sap flow diminishes. "And if (warm weather) persists, trees come out of dormancy and the taps start to close up."
He recalled the badly-shortened 2012 season when taps were all pulled by mid-March. "People are hoping that's not what we're getting into this year."
In the southwest, Williams reported, there were strong runs early but there has also been an early shift to darker syrup – a signal that microbial activity in the trees and collection systems has increased, thereby shifting the sap's sugar profile. This happens as conditions warm.
"But everybody has been happy with the flavour they're getting," he noted of this year's syrup quality.
The big remaining question is if cooler nighttime temperatures can return in order for another late-season run to help the province's producers meet the increased demand.