Working on projects and introducing ideas made the pandemic period less difficult for Op Primo Sole in Montescaglioso (Matera, Basilicata).
"2020 has not been easy for us, but we managed to achieve at least part of what we had planned. The coronavirus only managed to slow us down but did not dampen our spirits," explains Francesca Appio, communication and administration manager for Op Primo Sole.
Her sister Rosangela, sales manager for the PO, adds that "the pandemic led to a satisfactory year from the point of view of sales. As the previous fennel campaign ended, the hoarding of packaged goods in supermarkets favored the consumption of our Dolce Lucano as well, a brand that has been growing steadily. It is also true that the new season started more slowly, as the current semi-lockdown has had a different effect than the total lockdown of March-May."
Rosangela and Francesca Appio.
"The situation has not improved in the past few weeks despite the festive period. The market is calm at the moment, and we are hoping for things to improve in January-February 2021," stresses PO administrator Giuseppe Appio. "The weather helped during this campaign, so we have not encountered cultivation or harvesting problems. There were only a few difficulties for bell peppers and for the first fennel productions in Calabria due to a flood in the past few weeks."  
"The first six months of 2020 have been rather pleasing. Prices have fluctuated a lot with the arrival of summer produce such as melons, despite the excellent quality. Quality was rather good for fennel and cauliflower in the fall and is still good now. Consumption and sales prices are what is worrying us at the moment."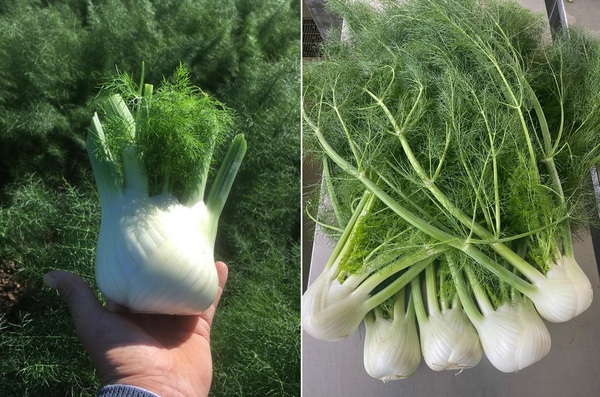 Dolce Lucano and the latest news
"Our brand stood out on the market for two reasons: the first is connected to the fact that we did not compromise and maintained our position and product prices thanks to the value of the brand, packaging and products. The second is the fact that the big distribution chain and consumers recognized the added value of our Dolce Lucano," explains Francesca Appio.
The Dolce Lucano 2 kg crate was also launched recently. "We wanted to introduce it already during the lockdown, but it would have been difficult. Slowing down was actually a good thing for us, as it gave us the time necessary to analyze the various components. We thus opted for a fully recyclable cardboard crate that holds wet fennel well and can be stacked."

New Dolce Lucano 2 kg crate
In addition, a lot of attention was given to the digital press and the message to launch. "Each crate features random recipes developed with the help of a food blogger featuring raw fennel. Our payoff is in fact 'gustalo crudo' (i.e. enjoy it raw)."
Coordinators for Basilicata by Associazione Nazionale Le Donne dell'Ortofrutta
On December 15th, Francesca and Rosangela Appio were appointed regional coordinators for Basilicata by the Associazione Nazionale Le Donne dell'Ortofrutta. "We are honored, as we became part of the Association only one year ago. We are also younger and more inexperienced than others. Being part of this Association is very important for networking. During lockdown, we took part in weekly meetings where we kept up to date with activities and the ways in which to communicate."
"We talk, compare and never focus on a single company, as we try to find shared issues to analyze. It is an ongoing stimulus to pursue corporate and personal objectives, as the Association does not only represent the production world, but the entire sector."  
Contacts


Rosangela Appio
Cell.: +39 3891569876
OP Primo Sole
S.S. 175 km 30,500 sc
75024 Montescaglioso (MT)
Tel./Fax: +39 0835 201993
Email: info@opprimosole.com / op.primosole@pec.it
Facebook: @FinocchioDolceLucano