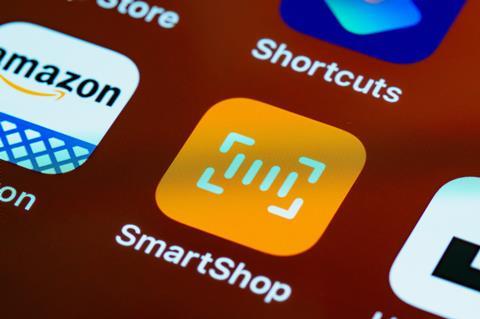 App technology has evolved at lightspeed in recent years. In their infancy, apps were primitive. Fast forward a few years and a native app can be the purest form of a consumer's digital experience.
The acceleration of digital's maturity in the grocery industry has been profound as online grocery has doubled. Apps have played an important role in this: our own survey data showed 22% of UK smartphone users have downloaded a grocery app in 2020.
But too often an app acts as an additional transactional platform. In a world where the lifetime value of a customer is crucial, apps need to be a touchpoint that builds valuable and enduring relationships.
In more digitally mature sectors, we've seen how apps can help businesses deliver against three important business and marketing objectives.
Driving profitable shopper acquisition
Supermarkets have now built a level of infrastructure to support a 2020 level of online grocery demand, and we're already seeing search demand  drop off from lockdown levels. There will be a need to acquire new online customers again, and a sharper focus on ensuring those customers are as profitable as possible.
Research from eMarketer shows that across retail, app users spend more, more often and use more channels than non-app users.
This means app customers are most likely the most valuable customers – so why aren't they valued accordingly? Especially those about to embark on a multiyear relationship with a business. Making sure they're acquired at scale should be a priority.
Reducing churn
2020 saw a huge surge in app usage, also reflected in search growth. But the inconvenient truth is that the average app loses 77% of users in the first three days post-install, and 90% after 30 days. If true, this makes the majority of app user acquisitions lose grocers money – thus re-engagement strategies are crucial.
In the grocery world, we're heading for the perfect storm of retention and customer experience.Tim Steiner put it clearly in Ocado's recent earnings report when he said "customers will look for the best experience" and "retention will be a long-term differentiator for growth with consumers prepared to shop around for a better service". It seems the app sits at the heart of this, so retention will be absolutely vital.
Brand favourability
The often-quoted tech analyst Benedict Evans once said: "Do people want to put your icon on their home screen? Do you have the kind of relationship, and proposition?"
If a brand does, and they nail the experience, they're in luck. We partnered with Kantar to try and understand what impact a great app experience can have on brands. The good news is, it moves all the metrics brands care about. In fact, the more frequently someone interacts with an app, the higher their brand favourability and brand love metrics go.
So frankly, this is a real sweet spot when it comes to app customers. Once a brand has people on its app, they need to make it sticky and relentlessly focus on retention. Delight customers and in turn they will most likely be delighted with the brand.
AppAnnie shows weekly sessions in UK food & drink apps peaked in October 2020 at 38 million sessions, showing apps now play a significant role in the UK consumer's weekly agenda. Apps that are part of that routine can have huge benefits for UK grocers and should not be overlooked.