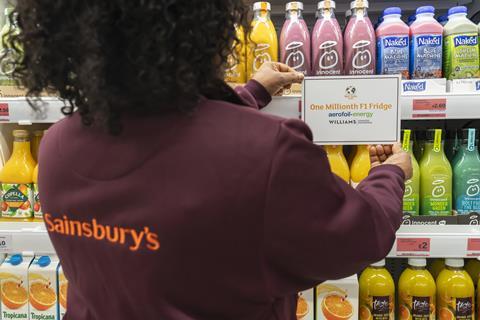 The environmental and social challenges facing the world right now have never been greater, and as one of the largest UK food retailers with a global supply chain, we take our responsibility seriously. We know the impact of the food system on the planet, albeit complex, is a major contributor to the climate emergency, accounting for 30% of global greenhouse gas emissions. 
Further still, this year's United Nations report on climate change made clear we all need to step up our efforts and be ambitious in our pursuits to limit global warming to 1.5°C.
So at Sainsbury's, we've set ourselves some bold and ambitious targets to make change and positive impact happen at pace and scale. We're accelerating our goal to become net zero by 2035 in our operations – five years earlier than our initial plan. Although these targets matter, at Sainsbury's we also believe action to deliver them matters more.
We've been making good progress in our net zero ambitions. Since 2018/19, we've reduced our carbon footprint by 21% and that's been possible because of a vast number of energy-saving initiatives we've put in place – 3,100 initiatives to be exact, into which we've invested £320m in the past decade because we're dedicated to our trial and learn approach.
For example, we have rolled out LED lighting across 100% of our supermarket estate, reducing lighting energy consumption by an average of 70%. Meanwhile, earlier this year we transitioned to 100% renewable electricity across the entire estate and we're currently working with Imperial College to trial new ways of reducing the carbon footprint in the retail industry.
Innovative technology
We know we can't simply rely on existing technologies to deliver the solutions we need. There are so many innovative startups and early-stage companies developing interesting, new and disruptive technologies and this innovation is key to enabling us, and other businesses in our sector, to reach our targets.
That's where we can help, because our extensive and diverse operations provide an ideal commercial path for new engineering technologies. With the right investment and support from the right expert partners along the way, these technologies can go from a concept into something very real and scalable – which will benefit not only us, but the entire sector.
It's why a crucial part of our action plan to reach net zero in our own operations by 2035 is investment in early-stage technology businesses, those whose objectives align with our ambitions. We know the urgency of the climate crisis means we need to move faster, and we can only achieve the scale of change needed through industry-wide collaboration and commitment.
We know from experience that this approach works. One of our most successful projects of the past few years was with Williams Advanced Engineering (WAE), a world-leading technology and engineering services business, which combines cutting-edge technological advances and the industry's best engineers. Working alongside them, we invested £9m in our refrigeration – designing a unique aerofoil that reduces the energy consumption of all our fridges by 15% and saves approximately 15,000 tonnes of carbon per store.
Since then, the pioneering energy-saving equipment has been rolled out in stores across the country, resulting in an estimated 15% energy reduction, with other retailers following suit.
Next steps
Now we need to be looking at what's next, focusing on the areas where transformation is needed the most and accelerating our engineering innovation to fill gaps in technology. Rather than passively waiting for innovation to enter the mainstream, we're proactively searching for the new technologies and solutions that need to be identified, tested and deployed, just as we've done previously.
It's why we've launched Sainsbury's Innovation Investments, which will invest a minimum of £5m over the next four years in startup businesses innovating in sustainable technologies that help to reduce carbon and water use. From refrigeration to ventilation, this landmark venture will examine opportunities for new solutions to reduce carbon emissions and water usage across our operations, as well as the wider sector, given these areas are both crucial to helping us reach that all-important 2035 target.
The process will allow access to investment opportunities to small businesses through a simple and transparent process that SMEs and startups can apply for themselves. Sainsbury's will support these dynamic startups by giving access to and creating opportunities for them to test and deploy their technology into thousands of our stores across the nation, once again working with WAE. It's something I'm really proud to be a part of and am excited to see what we can help bring to market next.
After all, tackling the climate emergency requires investment alongside collaborative and transformational thinking across industry and government, and a willingness to work together and share learnings globally, so we can all take meaningful, immediate action to help secure the planet for generations to come.