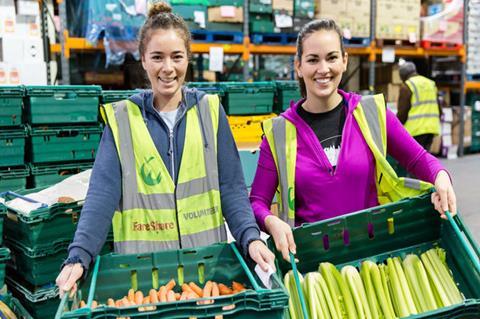 One hundred and forty of the UK's biggest food & drink businesses, including all major supermarkets, have cut annual food waste by 250,000 tonnes, according to a Wrap report.
The progress has seen the equivalent of 145 million meals redistributed annually to those who need it, while saving 670,000 tonnes of greenhouse gases.
It represents an average fall in waste of 17% since last year, worth £365m, or £1m a day.
The report plots this progress against Wrap and IGD's Food Waste Reduction Roadmap, launched in 2018.
It also sets out what the UK food industry needs to do to hit UN Sustainable Development Goal 12.3 to halve food waste by 2030 against a 2007 baseline. Overall, the UK is now over halfway to achieving that goal, Wrap and IGD said.
The 250,000-tonne annual reduction cited in the report has been recorded by the 140 businesses now providing year-on-year comparable data, up from only about 50 a year ago.
The big jump in companies providing year-on-year data makes the landmark report the most meaningful measure yet of the roadmap's progress.
The total number of signatories to the roadmap has also risen, with 267 businesses and 47 supporting organisations now committed, 25% more than a year ago.
Meanwhile, the number implementing the 'Target, Measure, Act' strategy – an internationally recognised approach for tackling waste from farm to fork through targets and shared results – has risen from 171 to 207.
Major supermarkets are providing year-on-year comparable data, and other food businesses are catching up, according to IGD. It now wants to see faster progress from hospitality and foodservice.
"Against a hugely challenging backdrop, the Food Waste Reduction Roadmap has continued to make significant progress in 2021, demonstrating the enormous appetite our industry has to drive positive change," said IGD CEO Susan Barratt.
"As well as the environmental and social imperative for businesses to reduce their food waste, there's also a compelling business case."
Resources and waste minister Jo Churchill said: "I am pleased to see the Roadmap is having such a significant impact on food waste reduction and I applaud those businesses taking strong action to tackle this key issue.
"It's vital that we go further, which is why we are committed to consulting on mandatory food waste reporting for businesses."