The Guizhou People's Fruit brand sells organic kiwi fruit with the slogan "Guizhou People's Fruit for Guizhou people". When you travel down to Xiuwen county in Guizhou during the kiwi fruit harvest and say 'kiwi fruit', people will immediately respond with 'Guizhou People's Fruit'. That is how strong brand recognition is. Guizhou People's Fruit manages organic kiwi fruit plantations in accordance with green standards. The price is high, but so is the product quality. Guizhou People's Fruit kiwi fruit has a unique flavor. The fragrance is rich and the taste is characteristic.
The kiwi fruit of Guizhou People's Fruit in Xiuwen county belongs to the Guizhang variety. This variety is different from other kiwi fruit in terms of appearance and flavor. The outside is golden yellow and covered in fine hairs. The Guizhang kiwi fruit variety is also relatively long and slender, almost cylindrical. Other kiwi fruit varieties are often bald and rather short and round, almost like globes. As for the flavor of Guizhang kiwi fruit, Xiuwen county has cultivated and selected kiwi fruit varieties for years until the kiwi fruit reached the right balance between sweet and sour. Other kiwi fruit varieties all have the same sweet flavor, without the rich fragrance of Guizhang kiwi fruit.
Live promotion of Xiuzhang kiwi fruit
"This year we introduced a new activity where visitors to the plantation can participate in the harvest. In order to achieve this, we established a cooperation between company, cooperative, plantation, and farmers in terms of production and sales. Urban residents travel down to plantations to experience the harvest for themselves. We also sell via e-commerce platforms. The sales volume of Guizhou People's Fruit kiwi fruit from Xiuwen county increased five-fold in comparison with last year. We can say without a doubt that this is a record season for production and sales." This is according to Mr. Wu Shaoxin, a spokesperson for Guizhou Province Guizhou People's Fruit Organic Agricultural Development Co., Ltd.
"We achieved an exceptional sales volume under trying circumstances, but this is not just the result of the hard work of our employees, but also because of the support of Xiuwen county government," said Mr. Wu.
Before the kiwi fruit harvest started, the Xiuwen county government initiated a support program that focused on many aspects involved in the kiwi fruit supply chain, including packaging, transport and distribution, refrigerated storage, online sales, store sales, brand building, and financial investment. Furthermore, several popular social media personalities participated in promotional activities such as the 2-hour live broadcast by Duan Duan that resulted in more than 1,000 orders. More than 30,000 kg of Xiuwen county kiwi fruit was sold all over the country as a result of her live broadcast.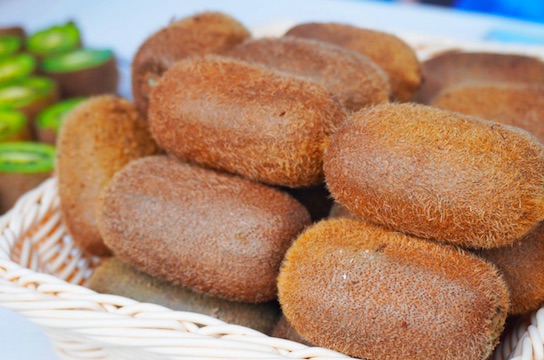 Xiuzhang kiwi fruit
Guizhou People's Fruit will sell kiwi fruit via e-commerce platform JD during the popular commercial festival of 'Double Eleven' [11 November]. The brand will offer discounts of up to 10% in their web shop. Their popular 5 kg kiwi fruit box normally costs 108 yuan [16.30 USD], but during 'Double Eleven' will only cost 98 yuan [14.79 USD], and an additional box will only cost 88 yuan [13.28 USD] on JD.
Xiuwen county in Guizhou is located high above sea level and the climate is particularly suited for kiwi fruit plantation. The natural environment is rich and natural resources are abundant. This is the prefect environment for high-quality kiwi fruit.
The harvest season can be divided into two distinct stages: natural ripeness and late-season ripeness. If the first stage does not produce the right flavor, then the second stage will. Xiuwen county kiwi fruit received national recognition as a unique regional product. The kiwi fruit is ready when the solubility reached 6.5% or more. This means that the kiwi fruit from the late-season harvest can reach a sugar content of more than 15%. Only then is the flavor right.
The overall surface area devoted to kiwi fruit plantation in Xiuwen county already exceeds 11 thousand hectares. The kiwi fruit industry is the largest industry in Xiuwen county, and this area is the third-largest kiwi fruit production area in China. The people in this county are working hard to make their kiwi fruit the number one brand in China.
For more information:
Wu Shaoxin
Guizhou Province Guizhou People's Fruit Organic Agricultural Development Co., Ltd.
Tel.: +86 139 8401 5432 
E-mail: 894190336@qq.com