By Caribbean News Global

TORONTO, Canada – Prime minister of Saint Lucia, Philip J Pierre, made a plea delivering his statement to the UNGA 76 for diplomatic reconciliation between Cuba and the US, noted, "The development of Saint Lucia will continue to be compromised, as long as the development of our sister nation of Cuba continues to be frustrated by global political considerations," added, "the situation in Venezuela concerns Saint Lucia tremendously."
The prime ministers statement to the UNGA76 also specified that, "Saint Lucia remains among a handful of countries that maintain official relations with the government of the Republic of China (Taiwan). We continue to plead the case to advance their cause to be accepted as a legitimate participant in the global decision-making process."
Prime minister Pierre further called for "urgent consideration of the harsh reality and the many and continuing challenges confronting SIDS like Saint Lucia," advanced that Saint Lucia has prioritized the implementation of "The Youth Economy".
Cuba
"Cuba continues to punch above its weight with its humanitarian efforts, playing its part in the global COVID-19 response, despite its disadvantaged position in the International Community. Saint Lucia joins CARICOM and the global community in renewing calls to the United States to normalize its relations with Cuba, and for the abolition of the existing embargo, which only serves as a hindrance to economic growth in Cuba, and an obstacle to realizing full regional economic integration in the Caribbean. Given Cuba's role in health, education, sports, and social development in our region, the normalisation of relations with Cuba, means the advancement of development in our entire Caribbean region.
"As we make this annual call for the normalisation of relations with Cuba, Saint Lucia wants it to be known that we are speaking to our own development in as much as we are speaking about the betterment of the lives of the Cuban people," said prime minister Pierre. "At a time when we are experiencing global turmoil, it is important for good sense to prevail, and for the world to fully embrace the immense expertise and resources which the Cuban people have to offer. It is more than overdue for us to make right this grave injustice to Cuba that has deliberately cut them off from the global supply chain. The continuation of this embargo in 2021is unconscionable," said, prime minister Pierre UNGA76 statement.
Venezuela
"The situation in Venezuela concerns Saint Lucia tremendously. As one of the first nations to establish diplomatic relations with Saint Lucia after we gained Independence in 1979, and as a beneficiary of Venezuelan economic cooperation, Saint Lucia considers Venezuela a loyal and legitimate friend and partner. The virtual economic blockade which has been imposed on the democratically elected government of Venezuela by a few big and powerful countries is unacceptable in this international system. It is even more outrageous, that prominent members of this international system, who pride themselves on their democratic traditions, have sought to recognize an alternative president who did not even contest elections, and who has no political legitimacy whatsoever.
"Further, the act of seizing and freezing Venezuelan government gold, cash, and assets, while preventing access by the Venezuelan people to basic food, medicines, and supplies during this pandemic, could quite conceivably qualify as modern-day piracy, economic terrorism, and crimes against humanity. Saint Lucia and CARICOM cannot in good conscience continue to be part of this unjust attack against the Venezuelan people," said Pierre.
SIDS and The Youth Economy
Emphasizing the need for a rebirth of the Saint Lucian economy, prime minister, Pierre proffered "The Youth Economy, as the new frontier of our economic development, formalized in a new government department". This department likewise falls under the  prime ministers' purview with the mandate "of propelling our young people to turn their talents, skills and hobbies into economic enterprises for their own empowerment."
The prime minister "appeal to the international community to remain focused on working in partnership with SIDS like Saint Lucia. For the balanced development of the global community," adding "we need the powerful to behave responsibly and cooperate more effectively to enable a more inclusive and sustainable humanity for all, and to ensure that no one is left behind." The reasoning being, "we see our young people as a resource to be molded and optimized, not as problems to be managed or solved. We believe that a country must consider the aspirations of its young citizens and turn them into concrete and practical assets, purposes and goals," he continued.
"We are committed to improving the lives of our young people, especially the most vulnerable, and we are working with all citizens to assist them in transforming their lives and to make viable contributions to the economy. In this regard, Saint Lucia invites the International Community to discuss and engage with us strategically, on mutually beneficial relationships and projects to promote The Youth Economy, as we seek to build a better and more sustainable future for all," he said.
Prime minister Pierre reiterated the call for urgent consideration of the harsh reality and the many and continuing challenges confronting SIDS like Saint Lucia, stated, "now is the time for a change, the time to act, the time to overcome our challenges through global solidarity and mutual assistance. The future of every nation and country is at risk, we need the global economy to work for the 99 percent and not just the wealthy and powerful one percent." 

Taiwan can help and is helping
Highlighting the importance of enhancing trade, diplomatic cooperation and economic cooperation are important linkages that Taiwan strategic alliance with Saint Lucia, gives reason to further strengthen the economic ties between Saint Lucia – Taiwan to advance GDP growth.
Over the years Taiwan has and continues to provide economic assistance of approximately $20 million annually. The projection is likely to be north of $30 million for 2022, bases on current project submission and increasing appeals for mutual assistance. There is the constant cry that the country has no money.
Over the years Taiwan's democracy and economic expansion continue to attract investors. Recent forecasts indicate that "The Taiwanese Economy: Doubly favored." Taiwan is robust in promoting trade partnerships, seeking to join Comprehensive and Progressive Agreement for Trans-Pacific Partnership (CPTPP).
Saint Lucia stands to benefit from Taiwan's innovation, economic and investment ties, and the benefits of " The Youth Economy" in constant with Smart City Online that creates connections for businesses around the world. Smart City Online Portal Entry (S.C.O.P.E.) is the most comprehensive online database of global smart city & IoT solutions – should the assurances established are reaffirmed in the continuance of diplomatic ties.
The opportunities for Taiwan – Saint Lucia diplomatic and economic expansion is fitting in the global equilibrium to 'Forging a 21st Century Agenda' establishing strategic partners in the global economy, for growth and development.
Avenues of opportunities are plentiful to launch sovereign investment partnerships, the transfer of information technology, green energy production for sustainable development, and assistance to avert "the development of Saint Lucia will continue to be compromised" that prime minister Pierre alludes to is avoidable, with the correct balance of strategic positioning, and economic policy towards the new economy – "The Youth Economy".
Recently, the UN Conference on Trade and Development (UNCTAD) warned, the world's poorest countries will remain on the margins of the global economy if States are unable to boost economic production, and the international community fails to provide more support. " Their ability to respond to and recover from crises such as COVID-19, and to advance towards sustainable development, is dependent on increasing production capacities, UNCTAD's Least Developed Countries Report 2021, released on Monday notes, calling specifically for increased investment in State and productive capacities for the Least Developed Countries (LDCs) grouping."
Additionally, "Diversification paves way to global trade in Caribbean" as noted by Deodat Maharaj, executive director of the Caribbean Export Development Agency (CEDA), "supporting micro, small and medium-sized enterprises (MSMEs) in the region with financing, resources and stimulating policy frameworks is an obvious choice, considering that across the Caribbean, MSMEs are already a significant force.  MSMEs represent between 70-85 percent of Caribbean businesses and contribute between 60-70 percent of the region's GDP. Critically, they account for an estimated 50 percent of total employment."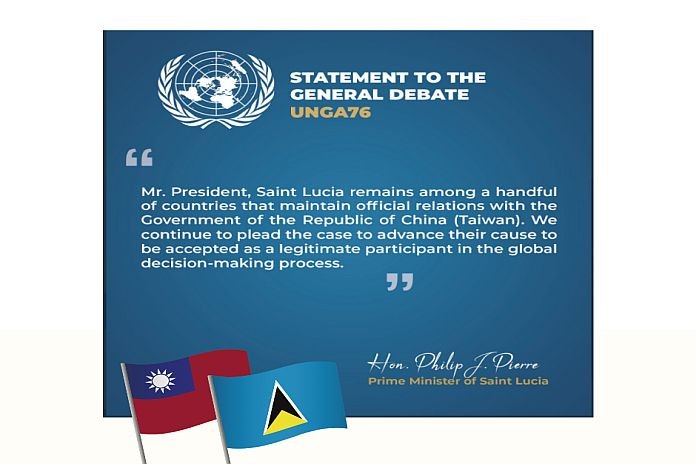 Thus, advancing Taiwan cause to be accepted as a legitimate participant in the global decision-making process, is a step in the right direction for allies and regional partnerships with shared values and interests.