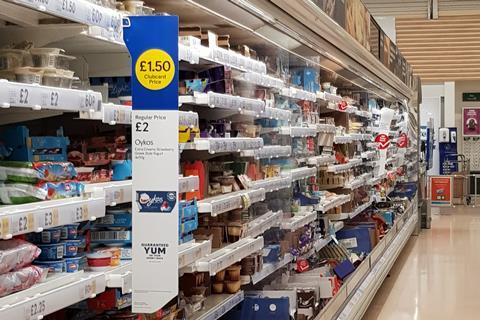 Strong availability and excellent customer service helped Tesco's Bathgate store see off some stiff competition and pick up the store of the week award.
The win was Tesco's first in six weeks as Bathgate racked up an impressive 90 points. Our shopper only missed out on completing a full basket as the store did not stock the required chicken tikka slices.
Our shopper was impressed with the store throughout. This started with the newly resurfaced car park and continued into the "clean and bright store". She found the layout "logical and easy to navigate" and awarded staff full marks. She praised them as "very helpful and knowledgeable" and described the checkout operator as "lovely".
Sainsbury's in Woolton, Liverpool was five points behind on 85. Like Tesco there weren't any out-of-stocks. Our shopper picked up a total of 30 as items as three were not stocked at the store.
Our shopper was made to feel safe as Sainsbury's continued to maintain strong Covid security measures. She said the store was small with limited services but the layout was logical and the aisles were still wide enough to ensure social distancing.
While there was some restocking in progress, staff kept their trolleys out of the way and did not cause obstructions. Indeed, our shopper found "all staff were really helpful and never too far away if I needed them".
Just a point behind Sainsbury's was Waitrose in Sunningdale. Again, availability was strong – though there was one product out of stock as well as two not-stocked items.
The small nature of the store made our shopper a little uncomfortable in the busy fruit & veg section but this wasn't an issue in the rest of the store, despite the narrow aisles.
Customer service from staff was excellent across the board, with partners using their hand-held devices to find out about the availability of stock and where possible retrieve items from the storeroom. The checkout operator was also "friendly and chatty".
Asda in Frome, Somerset provided our shopper with 31 items – with one product out of stock and another not sold. In terms of the wider availability, our shopper felt many items appeared to be running low and there were a lot of gaps throughout.
The store scored 73 and our shopper described her experience as "a positive one on the whole". She also received strong customer service from all of the staff members she came into contact with.
It was our shopper's first visit to the store and based on this trip she said she would be happy to shop there again.
In a strong week overall, Morrisons in North Shields came in fifth but with a respectable 65 points. Two out-of-stocks cost it in terms of availability points.
There were also some issues with leaking freezers making the floor wet, and our shopper felt the warning signs did not properly cover the whole area of the leak.
She was also made to feel uncomfortable when queueing for the tills. While standing on a spot that said 'wait here' she was "brusquely" instructed to move and queue down one of the aisles by a member of staff.
Aside from these incidents, our shopper said staff were friendly and she was impressed by the store's butcher counter, world food selection, clothing and homeware departments, and party range.