Imagine having a steady, fresh supply of livestock feed available daily that's not subject to price fluctuation or unpredictable weather. 
That's the vision behind HydroGreen's fully automated system that applies the principles of indoor vertical farming to producing livestock feed. 
"In agriculture specifically, we have some very important dilemmas where farmers are being asked to do more with less – but how do you do that while keeping the lights on?" says Thierry Perrotin, vice-president of business development with HydroGreen. 
Why it matters: A stable, predictable feed supply at a fixed cost reduces economic pressure and creates more stability for farm businesses.
HydroGreen produces hydroponic livestock feed by sprouting wheat or barley grains in a vertical, controlled environment. The automated system is controlled by a touch screen menu and consists of a stacked unit of tables and with LED lights and sprinklers between each layer. 
A horizontal belt unrolls across the length of each table and seed is dropped automatically to fill the belt space. The sprinklers water the seeds, which start sprouting within 24 to 48 hours, and the crop is ready for harvest by day six. 
Another button on the touch screen moves the belt and its cargo of germinated seeds that now resemble a giant green carpet towards a feed sizer that shreds the crop, from where it can be mixed into the regular herd ration using a TMR mixer, for example. 
Each level will produce about 4,500 pounds of feed at a time, which is enough for 100 – 120 dairy cows depending on how the ration is mixed, notes Perrotin. 
Farmer Dihl Grohs built the first prototype for a low-maintenance feed growing system based on his experiences raising beef cattle in Idaho, where lack of rain and competition from nearby dairies made finding quality feed for his herd challenging. The company is now a division of Vancouver-based CubicFarms that got its start with a patented indoor vegetable growing system. 
According to Perrotin, HydroGreen's primary focus is on dairy and beef cattle, making it an excellent fit for the Canadian market, especially in areas prone to drought or where land is expensive. 
"We are seeing different use cases where we could replace up to 40 per cent of corn silage in a normal ration. This gives you a year-round supply that is fresh every day, and with your nutritionist, you can find the balance in the ration," he says. "Another option is replacing a portion of the grain in the ration or replacing hay. The nutritional value of this feedstuff is very high." 
For farmers who have to buy a lot of their hay or other feed, Hydrogreen can be a cost-competitive solution, he adds. 
Eco-Dairy, located in Abbotsford, B.C., is home to HydroGreen's longest running farm installation. The 45-cow dairy farm, which is part of the Nutriva Group of privately owned agribusinesses, has an agri-tourism partnership with Vancouver's Science World. It also includes a beef herd of Angus-Holstein cross cattle that are finished as grass-fed using the hydroponic grass.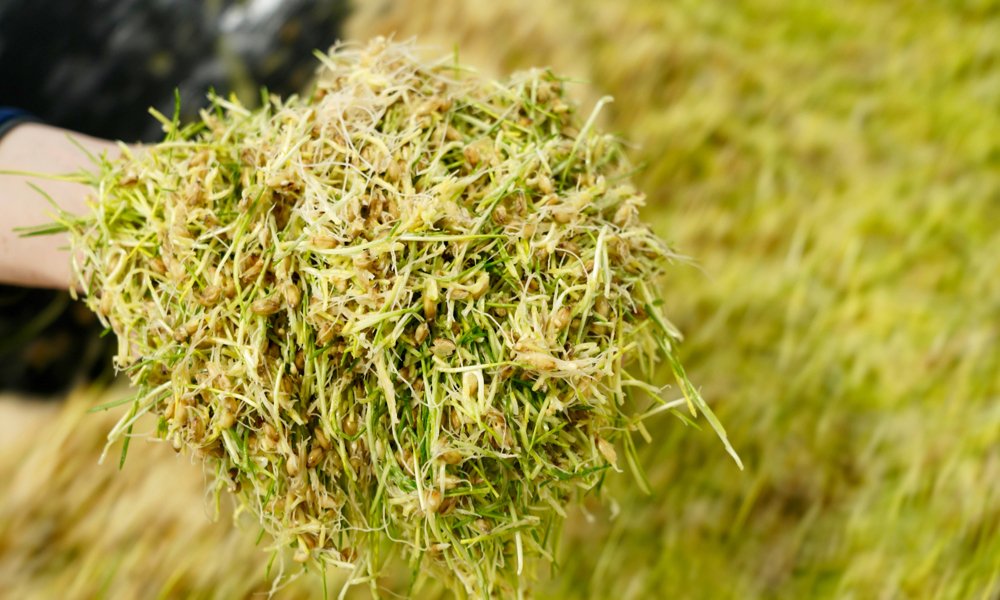 Eco-Dairy has two HydroGreen systems. One was purchased three years ago to support the grass-fed beef business, and one was added last year as part of a three-year dairy research trial testing HydroGreen as a replacement for different components of the dairy ration. 
"This gives us the ability to produce grass-fed beef 12 months of the year with better consistency," says founder and general manager Bill Vanderkooi. 
Vanderkooi says his dairy manager is pleased with the herd's performance on HydroGreen so far and has noted a small increase in milk yield, as well as reproductive rate improvements. However, it's too early in the trial to draw any definitive conclusions. 
"HydroGreen gives us the opportunity to be in a niche market. We're a small player, but we get paid a premium for the beef, and the demand is very strong," he says. 
According to Perrotin, there are many opportunities to expand the application of the technology, including for equine, broiler chicken and hog farms.