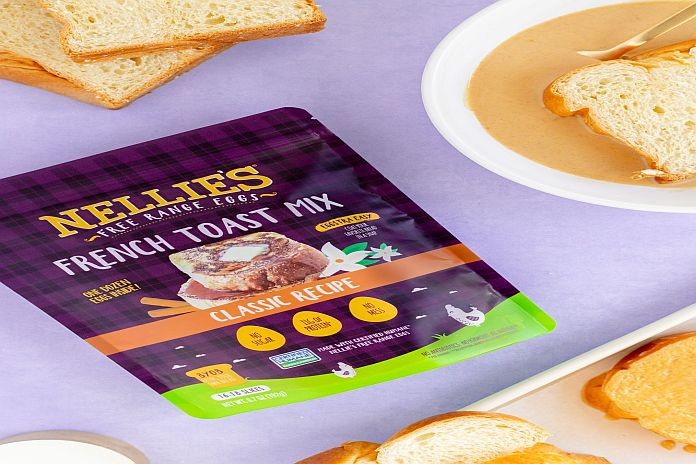 NEW HAMPSHIRE – Nellie's Free Range Eggs, the leading free-range egg brand in America, announced the launch of a first-of-its-kind, shelf-stable French Toast Mix. Offered in two delicious flavors, Classic Recipe and Chocolate, the naturally high-in-protein French Toast Mix is easy and convenient to prepare with just water or milk and makes enough to feed the whole family and then some, with each pouch making 16-20 slices. In keeping with the brand's commitment to the highest standards of humane farm animal care, Nellie's French Toast Mix also features a dozen Certified Humane® Free Range eggs in every bag.
This new French Toast Mix comes as breakfast has undergone a transformation in the past two years, as consumers shifted habits from eating breakfast on-the-go to enjoying their morning meal at home with family, where pancakes, waffles, and French Toast now lead the pack in popular breakfast foods. The nostalgic flavors of cinnamon, caramel and maple also remain popular, providing a sense of comfort in a time when consumers are more affected by stress than ever before.
"I'm confident that consumers are going to love our French Toast Mix," said Erik Drake, chief executive officer of Nellie's Free Range Eggs. "Not only does it taste great, but it's the perfect product to keep on hand in the pantry for a quick, convenient and stress-free – yet still special – breakfast that the whole family can enjoy, and even help prepare."
With no egg-cracking needed, Nellie's French Toast Mix offers an easy and mess-free preparation and also features a clean ingredient list with no added sugar in the Classic variety and just six grams in the Chocolate variety. The French Toast Mix is also adaptable to all diets, including keto, paleo and gluten-free, offering consumers the option to customize with their bread of choice and still meet their dietary needs.
Both flavors of Nellie's French Toast Mix are offered in a 6.7-ounce pouch and are now available on Amazon and shipping nationwide for a suggested retail price of $12.99 USD.

Source: caribbeannewsglobal.com