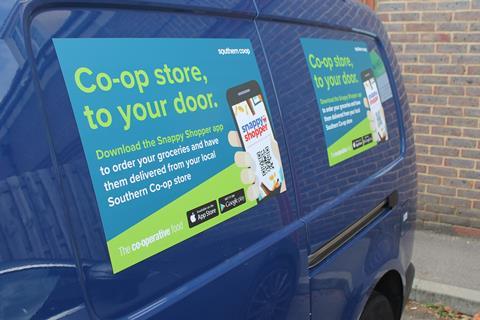 Southern Co-op has added a further eight stores to its Snappy Shopper partnership as it nears its 10,000th home delivery. 
The society kicked off a pilot with the rapid delivery platform in September last year across 18 stores in Chichester and Portsmouth.
The additional sites now span beyond the two cities to Emsworth, East Wittering and Selsey.
More than 3,000 products are available to shoppers, including fresh foods, groceries, babycare, petfood, magazines and newspapers.
It said top-selling categories delivered via the app had been milk, soft drinks, fruit & veg, other dairy, and the Southern Co-op sandwich deal.
In Portsmouth, the two most ordered items were a small pack of Co-op Fairtrade bananas and a four-pint bottle of semi-skimmed milk.
In Chichester, it was a four-pint bottle of semi-skimmed milk followed by a two-litre bottle of Pepsi Max. 
"The partnership with Snappy Shopper has been very successful," said Southern Co-op head of trading and format Andrew Farndell.
"We have worked very hard on ensuring we provide our customers with excellent service standards and good availability.
"Operationally we have been very customer-focused by making the deliveries within the hour and as a result we are seeing customers actively using the platform and returning every week."
Snappy Shopper head of group development Andy Batt said: "High-quality service standards are the cornerstone both for home delivery and shopping in-store.
"From the start Southern Co-op has prioritised order processing and delivery times as the foundation of their delivery service and built on providing an excellent customer experience.
"This is resulting in very satisfied shoppers, making repeat purchases on a weekly basis. We are looking forward to the future with Southern Co-op."
The society aims for one-hour delivery with estimated delivery times given via the Snappy Shopper app when ordering.
Delivery costs £3, plus a 4% Snappy Shopper service charge on the total (excluding the carrier bag charge). It is available from 9am to 8pm, seven days a week.