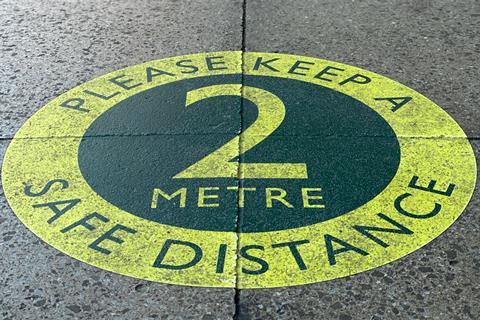 Supermarket bosses are to hold crunch talks with the government to discuss the removal of social distancing measures, including an end to the one metre-plus rule and mandatory mask wearing.
The Grocer has learnt retail operations executives will meet with government officials in the coming days in an effort to set a timeframe for many of the measures to disappear after figures showed it was having a major impact on footfall.
However, retail sources stressed social distancing in stores would only be removed if it could be justified by scientific figures and that customer safety would remain the number one priority.
"The meeting will discuss the way forward with moving away from social distancing including looking at what happens with the one metre-plus rule," said a source. "The talks with the government are upcoming and will involve the operations bosses of both food and non-food retailers."
The government is currently reviewing the future of social distancing rules, including the removal of rules on mandatory wearing of masks in shops for staff and customers, as part of plans for a major relaxation on 21 June.
BRC CEO Helen Dickinson said last week businesses were waiting "with bated breath" for the go-ahead to scrap the restrictions, in stores and also in warehouses.
Her call came after  the latest BRC-Sensormatic IQ figures showed footfall was down by 40% compared with before the pandemic.
The figures showed a three-month average decline of more than 60% compared to two years ago. Retail parks saw footfall decrease by 30.5% compared to 2019, whilst larger stores had helped out-of-town sites fare slightly better, although the sector still showed a three-month average decline of 35.4%.
Read more:
The BRC said the cost of social distancing measures brought in since the pandemic was now "in the billions", though it has emerged retailers plan to keep the Perspex screens erected at checkouts and elsewhere in stores, because they make customers and staff feel safer.
This week Morrisons CEO David Potts told The Grocer the barriers would remain in place because they were reassuring to both staff and customers, whilst more than 400 Morrisons cafes that will open on Monday as part of the government's biggest loosening  yet of lockdown measures, have also been fitted with new screens for the long term, said Potts.
"We will keep our screens," Potts said. "We acted pretty rapidly to install them last year and they are an important part of making sure we are protecting staff and our customers and I'm certain it's the right thing to do to keep them."
The source stressed the sentiment expressed by Potts was industry wide: "The one thing retailers don't want is to roll back measures like screens and then to have to bring them back if there is another wave. Things like Perspex screens have been very expensive to introduce and it is not just a case of slotting them back in, it would be a huge cost."
The source added; "This is by no means a straightforward decision for stores. They are very conscious that many customers will be wary about the removal of social distancing measures and have got used to having extra space.
It could also become quite a competitive issue. Customers may prefer to shop in places where they believe the best safety measures are still in place."
Potts was hopeful that "social distancing and perhaps face coverings may go at some point but I think we may find that people have become used to having a bit more space over the course of the pandemic." Despite restrictions easing, Potts said Morrisons had spent a further £27m on social distancing measures in the first quarter alone.