Officials estimate it will cost as much as
$1 billion to bring all Albertans to the federal government's target speeds
Rural Albertans are being asked to test their internet speeds to help prove they need an upgrade to their broadband.
"The important conversation is that there's a gap between how the federal government is presenting rural numbers compared to what it's like on the ground," said Paul McLauchlin, president of the Rural Municipalities of Alberta.
The RMA implemented the Internet Performance Test program in partnership with the Canadian Internet Registration Authority (CIRA), a non-profit organization whose services include managing the .CA internet domain.
A web page with a link to the test, which includes a map of the results for each county or municipal district, has been provided at rmalberta.com/advocacy/toolkits-and-initiatives/cira-internet-performance-test/.
Users are asked to review the protocol before running the test. The program was launched in November and data will likely be collected for another year.
The federal government's goal is to ensure all Canadians have access to broadband by 2030, with data download speeds of at least 50 megabytes per second (Mbps) and upload speeds of at least 10 Mbps.
McLauchlin said the Canadian Radio-television and Telecommunications Commission has stated that 33 percent of rural Albertans enjoy such speeds.
"And in fact, the data that we've been generating in real time tells us only 10 percent of rural Albertans actually have speeds at that level, so it really creates this sense of urgency."
Low speeds are an obstacle to the adoption by farmers of technologies such as precision agriculture and smart farms that rely on broadband, he said.
"I think this smart ag is really what is going to make the biggest difference to our productivity per acre as we move forward into the next 10 years."
He also pointed to how the COVID-19 pandemic has accelerated the trend of people working from home via the internet, in turn promoting a move by a growing number of city residents to rural communities. He expects the trend will outlast the crisis.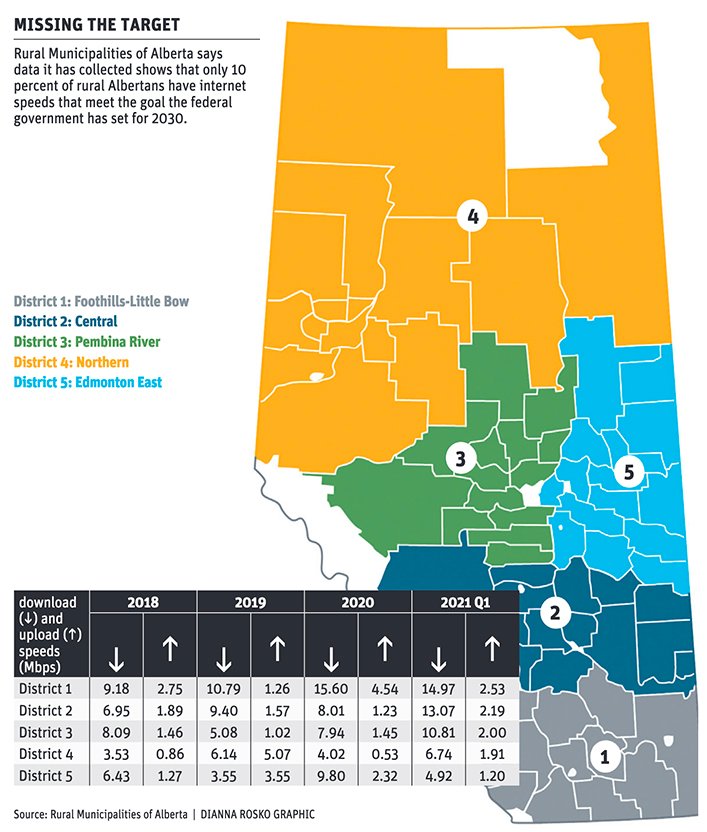 As an example, the Town of Trochu recently launched its Why Trochu marketing campaign to attract more residents.
The community "believes these unprecedented times have created a unique situation full of opportunity for rural Alberta… If people are working from home and can live anywhere in this great province, why not choose Trochu?" said a town statement.
McLauchlin, who is also the reeve of Ponoka County, estimated he has seen about five times more subdivision requests compared to last year.
"I've never seen this in 14 years. It's incredible."
However, rural areas that lack access to broadband will be left out in the cold.
It is particularly important during a time when Alberta has among the highest per capita COVID-19 infection rates in North America, forcing many people to work or attend school from home, he said.
The median download speed was 11.08 Mbps for 3,960 tests across the province during the first three months of 2021, with a median upload speed of 1.97 Mbps, he said. The median is the middle of the range of tested speeds.
"The fact is that we are far behind the 50/10, which is the federal goal," said McLauchlin.
The RMA also looked at speeds in its five membership districts, which each contain 13 to 15 counties and municipal districts.
The median ranged from 14.97 download/2.53 upload for District 1 in southern Alberta to 4.92/1.2 for District 5 east of Edmonton.
"And using that data, we've been able to have a better conversation with both the federal and provincial governments, and it has actually been quite effective," said McLauchlin.
Rural Alberta's smaller population and geographical obstacles make it unprofitable for large telecom companies to provide broadband service, which means governments must step in to bridge the gap, he said.
Prime Minister Justin Trudeau announced in November 2020 that $1.75 billion will be provided to connect 98 percent of Canadians to high-speed internet by 2026, with the goal of connecting the remainder by 2030.
It includes $750 million for the Universal Broadband Fund, which will work with partners such as the Canada Infrastructure Bank to help underserved communities.
The first project, announced last December under the fund's Rapid Response Stream, provided $1 million for Starland County and Stettler County in Alberta. High speed internet will be installed via Netago Internet to 7,179 households.
Meanwhile, more than $5.4 million was announced in March to connect 5,080 households in southern, central and northern Alberta. The funding is to be augmented by an additional $3.7 million from Telus.
Trudeau also last year announced an agreement with Canadian company Telesat of $600 million to "improve connectivity and expand high-speed internet coverage to the far north, rural, and remote regions across Canada, through low-earth-orbit satellite capacity," said a federal statement.
Successive Alberta governments have been promising a broadband strategy since 2018. It was mentioned in the provincial budget for 2021, but it has not yet been released.
Officials have estimated it will cost as much as $1 billion to bring all Albertans to the target speed of 50/10.
In the meantime, some counties and rural municipalities have decided to move ahead on their own to obtain broadband, said McLauchlin.
"And you know what, it's funny because when I hear from municipal leaders making investments on behalf of their citizens, they've constantly told me it's the one thing that they spend money on as rural municipal leaders that nobody was mad at them for doing it …they've always been told, 'you should have done it a long time ago.'"