Metis® will once again be present in the main European markets this year with a similar production to that of the previous year and with good prospects.
"In a special summer in which it seems that we'll gradually get some normality back, Metis® is back with more energy than ever, having become an alternative to traditional summer fruit. The mix of plum and apricot brings the best of two worlds together, and its spirit of diversity will offer new attitudes to consumers," says Camille Herouard, Product Manager of Metis®.
This year, frosts have taken a toll on the stone fruit harvest across Europe, while last year it was hail. "After a successful 2020 campaign with a lower volume, the prospects for the current campaign have improved, especially in markets where the brand has entered with force, such as Spain or China, and which are eager to work with Metis® again. This time, we will have approximately 5,000 tons, which is not the usual volume we'd expect from Metis®, but will guarantee its presence in the markets," says Camille. "Having different production areas guarantees that our fruit will be present in the markets, and that is a strength of the Metis group."
"The four Metis® families offer the consumers perfectly complementary choices, with nuances in flavor and color that complement each other and reflect the brand's pursuit for variety and diversity," says the brand's representative.
– Safari Star, with its mottled skin and delicate pink flesh.
– Oxy Solar, dark purple on the outside and deep purple on the inside.
– Dark Moon, with an intensely purplish skin and tender orange flesh inside.
– Sunset Sky, with red skin and bright yellow flesh.
Metis growing with a new family
This year will also be special for Metis®, welcoming a new family member: Sunny Day!
"As its name suggests, it is a variety that is absolutely radiant; golden and with a sweet and juicy yellow flesh. Pure sunshine turned into fruit and with all the qualities of summer fruit," says Camille.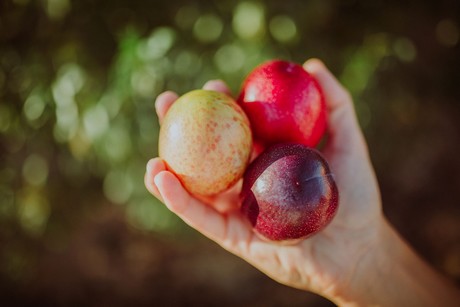 This addition from its Italian producers will be available in early August, expanding the varietal calendar and offering more options to the consumer. The quantity planned for this year will be small, but will progressively increase and the product will become part of the usual Metis® range.
500 hectares of production and 6 months of marketing
The Metis® group (Plumtastic Europe) brings the owners of the brands Metis Star Fruits and Rústicas del Guadalquivir together with the main companies specialized in stone fruit production: Blue Whale in France, Zani and Minguzzi in Italy and Royal in Spain. This brand has standardized the production and marketing of this singular fruit, which has gradually made a place for itself on the shelves as a new option for the consumer.
Metis® has been available on the shelves for 6 months, starting in late May with the Spanish production (which covers the brand's entire calendar), followed by the Italian production in mid-July, and finally the French in August. "500 hectares have been devoted to this revolutionary fruit of recent years in order to meet the growing demand for it," says Camille.
"Despite the inclement weather, the Metis® project continues, with a commitment with various supermarket chains, which are bringing it to their shelves because of the guarantee of success it represents. For their part, consumers also identify and appreciate its unique characteristics. Flavor, quality and commitment are the brand's greatest strengths," she adds.
Promotional activities for this year
The Metis® brand's promotional and expansive activity continues this year with the aim of achieving a further qualitative leap in the consumers' perception of its fruit. 
"From the beginning, we have focused on the mix: mix of sensations, mix of flavors, mix of ideas. Diversity makes human beings great and our ability to share makes us unique. This is the spirit of Metis® and it will be the focus of our campaign this year. We will celebrate the return to some normality in this COVID-19 era, continuing to share recipes and cooking tricks. But above all, we will work on finding out how we can improve our daily lives, with routines becoming rituals in which there is always something new to discover. Conviviality, outdoor activity, sharing and joie de vivre will be some of the concepts of our communication strategy, which are undoubtedly the mix that makes happiness possible."
"Our marketing team has worked on different messages adapted to each of our targets; consumers of different ages and with different concerns. All this will allow us to further expand the brand and improve our reputation," says Camille Herouard.
For more information:
Camille Herouard
Metis® product manager
Plumtastic Europe
T: +33(0)4 90 16 46 13
camille.herouard@star-fruits.com