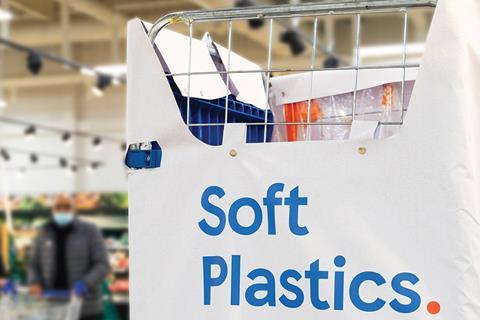 New guidance issued by Wrap today will help to transform the number of plastic bags and wrapping able to be recycled at supermarkets, the organisation has claimed.
The guidance is aimed at providing more consistent collections for more types of flexible plastic packaging and helping to divert more from landfill or incineration.
It said the the new guidance would mean by the end of the year, a much larger proportion of the population would be able to take all types of plastic bags and wrapping into their local supermarkets to be collected for sorting and recycling. This would include items like salad bags, crisp packets, biscuit wrappers, bread bags and frozen food bags.
The move comes with less than 20% of local authorities collecting plastic bags and wrapping as part of their kerbside recycling services.
Wrap said until kerbside collections of flexible plastic packaging were rolled out widely – the timing of which is currently being consulted on by government – a significant proportion of the public wanted to take such items to a supermarket recycling point.
The new guidance outlines best practice for introducing or refining existing collections and calls for the collection of all types of plastic bags and wrapping used for everyday items to be able to be recycled in stores.
Wrap said while many supermarkets provided front-of-store recycling points for carrier bags and other bags made of the same plastic (polythene), there was widespread confusion among shoppers about whether flexible plastic packaging could be recycled.
The guidance includes calls for consistency in language and ease of use. It also highlights that design of packaging plays a critical role, urging businesses to move packaging into simpler 'mono-material' design.
In March, Tesco announced 171 stores were collecting all types of plastic bags and wrapping across the south west of England and Wales, with plans to roll this out to all stores nationwide. Sainsbury's is trialling collection in the north east with full rollout expected by the end of this year. Other supermarkets are also conducting trials, including 51 Co-op stores across the south east.
Ahead of the rollout of all types of plastic bags and wrapping being accepted more widely, many supermarkets are already accepting some types. This includes soft stretchy plastic used for carrier bags, frozen food bags, bread bags and toilet roll wrap.
"I am delighted that, through the UK Plastics Pact, the proportion of the population able to recycle all types of plastic bags and wrapping at supermarkets is on the increase, and we expect that by the end of the year it will be widely available," said Wrap CEO Marcus Gover.
Co-op environment manager Iain Ferguson added: "Our own trials inform us that shoppers support simple solutions to these everyday issues with accessible disposal routes and clear messaging. We welcome the industry guidance, which is designed to simplify recycling for consumers."