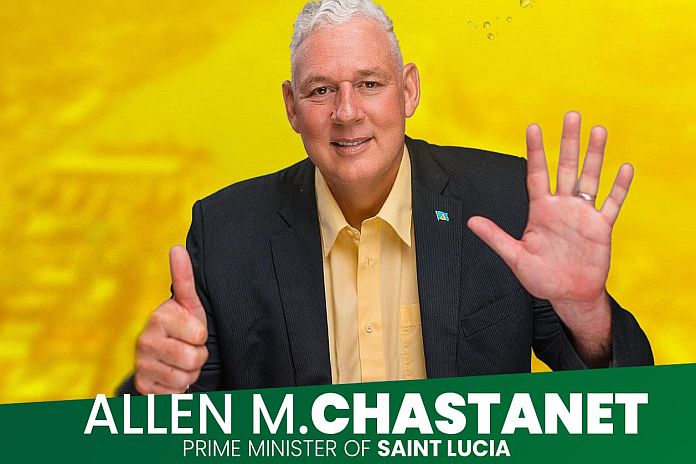 By Earl Bousquet
Opiyaj is a traditional Saint Lucian creole (Kweyol) description for 'throwing caution to the wind' – in this case, more like throwing sweets in the air for a lesser number of anxious children to wrestle over; or a bride turning-around on the stage and throwing her wedding bouquet over her shoulder into the air to be caught, or fought-over, by anxious unmarried couples attending her reception.
So, when a friend in Canada told me last Sunday, June 6 (on the 5th anniversary of the 2016 general elections) that 'the prime minister is 'playing opiyaj' with the election date, I quite well understood.
She pointed to the ongoing national suspense over the date for Saint Lucia's next general elections, five years after the last – for the first time since independence in 1979.
Indeed, another friend, this time in China, also called on May 30 to ask whether I could confirm 'the election will be in 21 days.'
Both calls had been preceded by Caribbean News Global (May 28) indicating very reliable sources had indicated that, notwithstanding all other times and dates suggested, 'July 5' had been set as the definite date for the next national poll.
I reminded both friends that in mid-May, the prime minister's father publicly indicated he had advised his son 'not to call the election before Friday, October 15.'
Instead, he should use the five-month extension of the COVID National Emergency (May to October) to start employment-generating, vote-catching infrastructure projects.
But the prime minister was also under pressure from some doubtful ruling party candidates – old and new – to call it earlier than later.
He'd earlier tied the election date to COVID herd immunity and the availability of sufficient vaccines to double-jab the 126,000 people it will take to test the effectiveness of the sheepherding theory.
But his hesitance is driven by prime ministers generally tending to not set dates for general elections until and unless fully convinced their side will win.
Prime minister Allen Chastanet has played the election date close to his chest and the day after the fifth anniversary of his ruling party's 2016 election victory, he made another election-related public announcement – but again, without the anticipated date.
The prime ministers June 7 statement surprisingly expressed surprise that anyone would have even dared to think his administration could have delivered all its 2016 promises in only five years.
Since then, his government has rolled out announcements of more projects in one week than ever before, including another new plan for moving patients from the George Odlum Stadium to St Jude Hospital, a third new Hewanorra International Airport (HIA) project and a cruise ship homeport – but only if his party is re-elected!
The exasperation in the prime ministers' voice as he made his plea for giving his administration a ten-year term clearly suggested he also knew an early election – growing and louder calls for which have gone beyond the opposition – would not be his party's best bet.
The United Workers Party (UWP) has also placed high hopes on reviving cruise tourism mainly from the USA, despite the US Center for Disease Control (CDC) still strongly discouraging Americans from travelling to Saint Lucia and instructing cruise lines not to sail out of US ports before October.
But with the World Bank, International Monetary Fund (IMF), Caribbean Development Bank (CDB) and the Eastern Caribbean Central Bank (ECCB) all warning that economic revival will depend on where COVID goes in months and years ahead, prospects remain certain.
While waiting for a hopeful early tourism rebound, the UWP is still counting heavily on the government creating election jobs, dishing-out food baskets and traditional cash incentives, activating community development and housing projects, fixing bridges, rushing road works, running around roundabouts and painting all roadside works yellow, to show that 'things are happening.'
Meanwhile, the campaign is shaping-up to be more and more of what Dr Ernest Hilaire saw in the fierce election race between UWP and Labour in Dominica in December 2018, leading to his punishment for forewarning that Saint Lucia's next general elections could be its worst yet.
The 2021 campaign here is indeed already like no other, levels of anxiety and despair coexisting with high hopes for no change in a poll to be held under national emergency and curfew conditions, with COVID protocols policed in ways that clearly disadvantage the opposition and the police hierarchy being accused of selectively throwing the book at opposition candidates, whether for allegedly violating COVID protocols or supposedly disturbing a church service.
Saint Lucia's election war is being fought furiously – 24/7 on social and mainstream media, the two major parties likewise going for the ultimate goal like never before.
Every member of parliament and every challenger will do everything possible to get elected or re-elected.
But neither party can afford to lose.
Political alignments and realignments are already like no other ahead of the poll, with possibly four 'Independent' candidates, two seats still with one candidate, an old 'third party' sporting green replaced by a new Green Party; and a jaundiced eternal ministerial hopeful again prudently pulling-off his adult-size kid's gloves to vengefully knuckle his feather-weight into his faithful 10-year-old punching bag.
Meanwhile, former prime minister and UWP leader, and current minister of infrastructure Stephenson King sounded like he'd been invited to make his 'first official visit' to the site for the new version of the old $175 Million HIA project earlier this week – only after about 600 of over 3,000 piles had already been hurriedly-dug.
And then came the hurriedly-arranged, back-to-back meetings of the island's parliament for every Tuesday left this month.
Whether there'll be new bills to borrow more and offer more incentives to investors, or to table outstanding unsigned agreements, or to report on unfinished government business, or to introduce new COVID protocols to govern general elections under emergency – or all the above – is anyone's guess.
Likewise, the Opiyaj election date.