Dedication to beef consumption remains strong in Canada, but a recent survey found sizeable interest in cutting back
A Canadian survey has found that most people are still strongly committed to eating beef.
However, in the last year at least one in four has considered cutting the red meat from their diets and there are rising concerns about beef consumption.
The Agri-Food Analytics Lab at Dalhousie University, along with Angus Reid, conducted the survey earlier this month with 1,503 people. It was intended to measure Canadian commitment to beef, considering moves by restaurants and the website Epicurious to veganism.
About 92 percent of Canadians eat beef; 65 percent said they eat it at least once per week. Eight percent of respondents don't eat beef at all.
Those who ate beef three to four days a week totalled 17 percent, while 44 percent ate it once or twice a week and 27 percent were occasional consumers or less than once a week.
The highest rate was in Alberta at 73 percent and the lowest was in British Columbia at 58 percent.
Women are less likely to eat beef than men, at 59 percent compared to 72 percent. Those numbers were similar when comparing Canadians with university degrees to those with a high school diploma.
"Beef remains an important staple in Canadians' diets," said a survey summary.
The most common reason for eating beef was taste, at 69 percent, while 12 percent said it was because of lifestyle and social status, and 10 percent cited health reasons.
More than half of respondents saw beef as a great protein source. Forty-two percent said beef played a central role in family and cooking traditions. Twelve percent of regular beef eaters said vegetable proteins weren't a good choice for them.
But the survey also asked if respondents had thought about cutting beef consumption over the past year and 25 percent said yes.
The highest rate was in British Columbia at 28 percent. The number was higher in Canadians under 35 years of age, with 31 percent considering the change.
Respondents said health was the main reason for this.
Just more than half, or 53 percent, thought it would be good for their health, while 46 percent said it would be good for the environment and 32 percent are worried about animal welfare and cruelty.
"Quebec is where most people who are thinking about cutting out beef are concerned about the environment (54 percent). For those under the age of 35, a total of 66 percent of consumers who are thinking about cutting out beef are concerned about the environment," said a survey summary.
"Ontario is the one province where most people thinking about cutting out beef are concerned about animal welfare (37 percent). Price is an issue for 31 percent of Canadians thinking about cutting beef from their diets."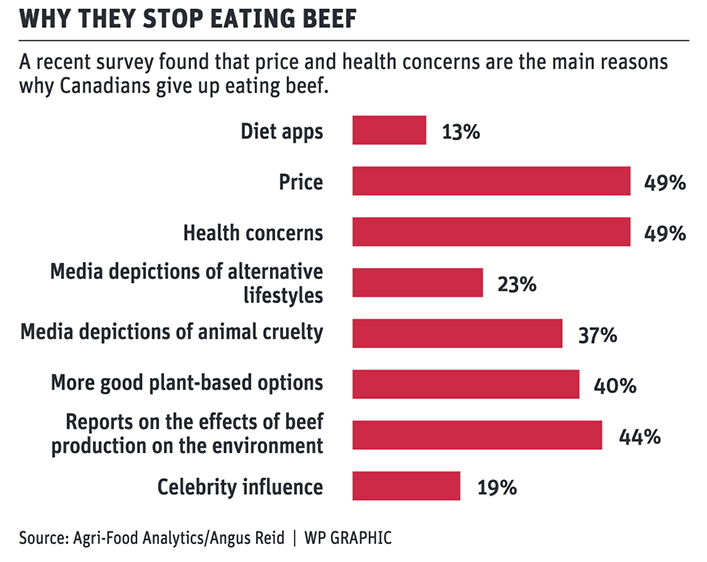 When asked what would influence them to eliminate beef from their diets, respondents said price and health, both at 49 percent, were the main factors.
Manitobans were most likely to say price would be an influencing factor in the future, while British Columbians were more likely to say health.
Forty percent of Canadians said they expected vegetable protein options to improve over time, with that rising to 54 percent in respondents under 35.
Overall compared to a year ago, preferences didn't change much with about 73 percent of respondents having no dietary preference, the flexitarian rate remaining at about seven percent and the veganism rate holding at three percent.
The report said there are about 600,000 vegans in the country.
Others identified themselves as pescatarian (eats fish, but not other meat), two percent, and both vegetarians and lacto-ovo vegetarians (eggs and dairy permitted) at one percent each.
Two percent said they had specific religious or cultural dietary preferences.
The full report can be found at www.dal.ca/sites/agri-food.html.